Pregnancy is an exciting time in a woman's life, but it is also a time of uncertainty. Your body is not your own anymore, and you will find yourself subject to all sorts of sensations, aches, pains, and other issues that unexpectedly pop up.
Hands and feet will swell, emotions will run rampant, and you will be filled with joy and expectation at hearing heartbeats, feeling first kicks, and watching your belly swell to epic proportions.
Pain During Pregnancy
It is not uncommon to feel pain and discomfort during pregnancy. Your body is being put through enormous demands, and these can be quite uncomfortable if you are not prepared for it. Knowing what to do about some of these common complaints can help you navigate your pregnancy safely, with no consequences to you or to baby.
Here are some common issues that you might encounter during your magical gestation period and some suggestions on what to do to manage these symptoms safely:
1. Sciatica
Sciatica pain occurs along the backs of the legs and radiates upward into the lower back. Your center of gravity is changing, and additional pressure is put on nerves in and around your pelvis. One of these large nerves is the sciatic nerve; it can be quite painful to sit, stand and walk if this nerve is pinched or compromised in some way.
For natural pain relief, avoid lifting heavy objects and standing or sitting for long periods of time. This will help reduce pressure on your lower back and pelvis, which can contribute to sciatic pain.
2. Lower Back Pain
Lower back pain is a common complaint among pregnant women, regardless of how far along they are. Give yourself the gift of pain relief and manage your lower back pain with a number of stretches that will relieve pain fast:
The Mermaid—Sit cross-legged on the floor with heels close to your buttocks. Extend your left hand down toward the ground to support you as you stretch your right arm up along your side and curve it up and over your head toward the left. Hold for several seconds, then switch sides.
Alternate Arm/Leg Raises—Get down on all fours, cushioning your knees if needed. Extend your right arm out as you extend the left leg back out behind you, lengthening your body while finding core strength. Make sure you feel stable enough to do so, and then switch sides and hold for several seconds.
3. Breast Pain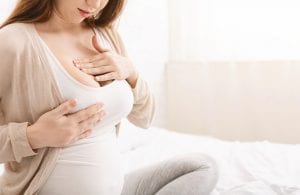 You'll find that your breast tissue is unusually tender and sore at this time. It seems that the slightest brush of clothing or other material sends you through the roof! Your breasts may also be swollen and uncomfortable.
For breast-pain relief, consider wearing a soft-material sports bra that can be worn day or night to protect tender tissues. Adding additional padding in your bra can help shield nipples from uncomfortable friction. You may also choose to avoid contact with people and other objects that could cause discomfort. Reduce your salt intake and drink plenty of fresh water to keep fluid retention at a minimum. These strategies will help reduce swelling and discomfort as you prepare for breastfeeding in a few short months.
4. Contraction Pain
Whether it's Braxton-Hicks or the real thing, contraction pain can be scary! Most women who start to experience contractions of any kind also report rising feelings of stress and anxiety, as they are uncertain what may lie ahead.
To reduce contraction pain, some women choose to apply counterpressure techniques, where they manipulate parts of the body against the source of pain to reduce the intensity. A partner can apply counterpressure techniques, or other objects like tennis balls or therapy balls can be used to help reduce stress in specific areas of the body. Doing what you can to focus attention on other areas of the body will reduce the intensity of the contractions that are taking place.
For a More Comfortable Pregnancy
Finding natural forms of pain relief that don't compromise the health of the mother or her baby is essential for a healthy pregnancy. Using these techniques to reduce or eliminate pain will put you both on the path to a healthy, happy, pain-free pregnancy!

Pregnancy Basics

Symptoms and Changes