Pregnancy is an important journey that takes a lot of energy, preparation, and caution. It can be difficult to maintain at times, from the inability to stomach certain smells without being nauseous, not being able to keep food down or barely getting sleep because your little one is most active when you decide to wind down for some rest.
Depending on where you live, this can be the tip of the iceberg. Being pregnant in the winter months can be a challenge. The cold, dry air can create problems retaining proper moisture, and the snow and ice can make walking outside a hazard for both you and your unborn baby. By taking proper precautions, it will be easy to thrive during your pregnancy, even in the winter months.
Proper Pregnancy Attire
Gestation hormones already come with a variety of temperature issues. One minute, you can feel like you're in an oven, and the next moment you are freezing, all while still indoors. If you live in colder climates, it is important to dress properly. Lots of mothers insist on a lighter jacket and wearing layers. By wearing layers, if you do get a bit warm, you can peel one off. Hot flashes can be a problem, even in the winter months. Invest in loose sweaters and scarves, and cover your head as much as possible without overheating.
In addition to wearing layers, it is important to wear proper footwear. Non-slip boots are a great investment, especially since a fall during pregnancy has a higher health risk. Depending on which trimester the winter months fall, buying non-slip boots that are slightly larger is a good idea. That way, if you experience ankle or foot swelling, your boots will still fit.
Winter Pregnancy Skincare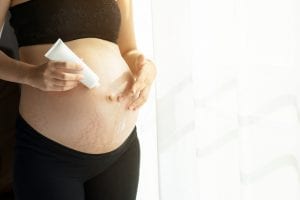 Winter months are brutal on the skin for everyone. Your body is already working overtime to feed and form a human being, so sealing your remaining moisture is important for your skin, especially as it is more prone to dryness and cracking. Body butters and thicker moisturizers will keep skin hydrated. These will also help your skin's elasticity; since your stomach is growing at a rapid rate, you are more likely to get stretch marks, especially with dry winter air. Another easy way to keep skin moisturized is to stay hydrated. Drinking water is necessary for the baby's development and moisturizing the skin from the inside-out.
Pregnancy does drain energy; however, practicing proper hygiene is necessary for not only skin but to keep yourself healthy in the winter months. Detox baths, hands-washing, and moisturizing will help you better fight infections.
Winter Pregnancy Diet
Typically, getting sick is not a huge deal; however, it can cause major problems for your little one. To avoid further complications, a proper diet is mandatory. Eating adequate amounts of fruits and vegetables will naturally boost immunity and fight infections. For instance, consuming a healthy amount of garlic can naturally boost immunity. Garlic has anti-fungal properties that help fight infections, even while pregnant. This is a great remedy, especially for women who may not be able to take medication or cough syrups.
Keep on Moving
In addition to the previously mentioned tips, it is important to stay active. Moving regularly will help boost your immune system, which is important during the winter months. As long as you dress for the weather, getting out for some fresh air is a great idea. If you are nearing the end of your third trimester, taking a walk is also great for helping your baby drop into proper position for delivery.
Before you overexert yourself, consult your healthcare provider. If you are experiencing complications or are considered high-risk, you may be recommended to get light exercise indoors. Pay attention to any issues you experience during the winter months and communicate any concerns immediately to eliminate any further complications.
Enjoy Your Pregnancy
Do not forget to enjoy being pregnant, even during the winter months. Whether you are a first-time mom or have multiple children, pregnancy is a special time and should be celebrated. Go out and enjoy yourself, especially since next winter you'll be outdoors with your beautiful new edition.

Fitness

Prenatal Health

Prenatal Vitamins