Many women who give birth choose to practice placenta encapsulation. However, there might be a problem if the mother develops group B strep.
Many women, after giving birth, experience postpartum depression. It is believed that this condition occurs due to a remarkable change in hormone levels, exhaustion and anemia that develops after blood loss from giving birth. One of the beliefs is that consuming the placenta can help to replenish in the woman what she lost during childbirth.
What is Placenta Encapsulation and How is It Done?
Shortly after a woman gives birth, the placental tissue is washed to eliminate all blood clots. When encapsulation is planned, it is then steamed, cut into several pieces and dried out. Eventually, it is grounded into a fine powder and then added to capsules.
There are companies that exist specifically for the purpose of offering placental encapsulation. Many professionals who assist in births, specifically midwives and doulas, also offer encapsulation. If a woman is considering this option, it's important to rely on a professional company that provides these services and has the expertise to do so. Using a professional service ensures that the tissue is handled safely.
At the same time, many women decide to do their own encapsulation at home. There are courses offered on the subject that can train you in how to safely perform encapsulation on your own. Whatever method is used, the importance of properly storing and treating placental tissue is essential. It should also only be consumed by the mother and nobody else. Generally, the encapsulation process should be done no longer than 48 hours after giving birth.
What are the Benefits of Encapsulation?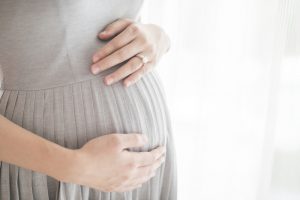 Many women believe in the practice of encapsulation and that consuming placental tissue can provide a number of benefits. In addition to the belief that the baby blues, a precursor to postpartum depression, can be chased away, it's believed that other benefits include improvement in the levels of iron in the blood and a boost in milk production and supply.
However, a study determined that there were no definitive benefits of the practice. Researchers learned that women who consumed three capsules per day only received 24 percent of the total amount of iron needed and that there were only slight increases in mineral intake. Additionally, the study found that when women consumed placental tissue, they were at greater risk of also taking in mercury, lead and arsenic. The levels of estrogen present in the tissue could also adversely affect a woman's milk supply.
What is Group B Strep?
Group B strep is a type of bacterial infection that is typically found in the vagina or rectum of a pregnant woman. The bacteria is normally found in those bodily areas in around 25 percent of normal, healthy women. Generally, when a pregnant woman tests positive for group B strep, they can pass the infection to their baby during childbirth.
The illness can affect around one out of every 2,000 babies born in the United States. However, not all infants born to women who test positive become sick. Additionally, group B strep is rare but can become serious if a baby becomes ill. Testing is a normal part of prenatal care in pregnant women as a precaution.
The Issue with Group B Strep and Encapsulation
One of the dangers of placental encapsulation relates to the fact that group B strep cannot be steamed out of the tissue. This means that women who practice encapsulation run the risk of getting infected. Other viruses, such as hepatitis, HIV and Zika, are much the same as they cannot be eliminated from placental tissue through steaming.
At the end of the day, according to experts, placental encapsulation is a practice that should be avoided. A good alternative is to speak with your doctor to discuss any issues of postpartum depression or other health concerns that arise after giving birth.

Delivery

Pregnancy Basics