Pregnancy is a time of transition for women all around the planet. While pregnant, a woman's lifestyle undergoes massive changes. The same thing applies to their bodies. That's precisely why pregnancy is associated with all sorts of "symptoms" and effects. They're not at all restricted to morning sickness, either. It isn't atypical for expectant women to experience occasional bleeding from the nose.
Why Exactly Is Bleeding of the Nose Prevalent in Pregnant Women?
Pregnancy has the ability to force the nose's blood vessels to get bigger. Expectant women also have higher amounts of blood accessible. This boost puts additional tension onto feeble vessels, triggering a susceptibility to burst. This explains why bleeding of the nose is so typical within women who are waiting for their bundles of joy. Roughly one in five women who are pregnant get them.
The reassuring news is that pregnancy nosebleeds, for the most part, are no reason to feel nervous or scared. If you're pregnant and get a slight nosebleed every once in a while, you generally do not have to go into panic mode.
Handling Bloody Noses in Times of Pregnancy
If you're pregnant and realize that your nose is bleeding out of nowhere, you should sit and slant your body to the front just a tad. Make sure your head exceeds your heart in height. Use your index finger and thumb to grip the entirety of the lower section of your nose. Breathe via your mouth and shut your nostrils for anywhere between 10 and 15 minutes.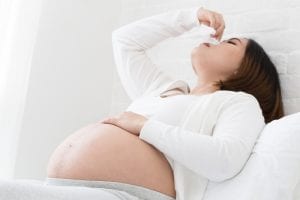 Put ice on your nose, in order to shrink the blood vessels. This can delay bleeding as well. Refrain from lying down. Doing so can trigger the ingestion of blood, which can make you throw up and feel queasy and can even sometimes lead to unintentional blood inhalation.
Time to Get Assistance From a Healthcare Professional
You should reach out to your doctor if you notice that you have an inordinate amount of nosebleeds when you're pregnant. The doctor may evaluate you in order to figure out the issue and whether it is caused by an underlying concern. It is not unheard of for nosebleeds that occur in expectant females to become urgent. You may want to head to the emergency room for time-sensitive care. Doing so may stop a critical situation from getting out of hand.
You should get emergency care if your bleeding doesn't let up after you give it a half an hour of pressure. Other things that call for emergency care are an immoderate flow of blood, chest aching, odd paleness, confusion, exhaustion and difficulty breathing properly. Bleeding can sometimes make people become noticeably pale. If you look in the mirror and notice that your face lacks its usual color, you need to address the situation without any hesitation.
How to Keep Bloody Noses at Bay
If you're a pregnant woman, it may be wise to do anything in your capacity to keep bloody noses at bay. Avoiding them in the first place may spare you a lot of frustration. It can help to consume a significant amount of water. Dehydration is never beneficial. Refrain from blowing your nose in an aggressive manner as it can lead to bleeding.
Try lubricants that can encourage moistness within your nose. Petroleum jelly may be a lifesaver for you. You can even look into saline nose sprays. Think at length about your living environment. You may want to invest in a classic humidifier. These devices can come in particularly handy in the winter season, and especially for those who live in dry climates. Make it a point to never excessively heat your sleeping area. Also, try to dodge potential irritants, such as smoke. Being prudent can in many cases help you skirt the frustrations of pregnancy nosebleeds.

Pregnancy Basics

Symptoms and Changes