For many women who go through pregnancy, the slight to severe bouts of nausea are nothing surprising. Although every pregnancy is different, this symptom of morning sickness usually comes on strongest and fades away within in the first trimester.
While there are a slew of natural remedies, each working differently from pregnancy to pregnancy, one popular option is the inclusion of lemons. Why lemon? According to the National Cancer Institute, lemons, limes and other tart-flavored foods are easy on the stomach.
Lemon-Infused Aromatherapy
Oddly enough, doctors cannot truly pinpoint an exact cause of morning sickness, however many bouts of nausea are induced from the sense of smell. Because of this, many women claim that the scent of a lemon can ease their bouts of morning sickness or help remove it entirely.
To look into this theory further, a study including the effects of aromatherapy were done. In a randomized clinical trial of 100 pregnant women experiencing morning sickness, researchers looked into the effect that lemon-infused aromatherapy had in treating morning sickness, and the results were substantial. With the women being divided into two groups, those who received the lemon-infused aromatherapy and those who did not, a statistically significant difference was present between the results by the second and fourth days. The intensity of nausea and vomiting by the second and fourth days in the group receiving lemon-infused aromatherapy were significantly lower than the control group.
To ease morning sickness from the start try keeping a fresh lemon on hand. At the onset of nausea, slice a lemon in half and either inhale the fresh scent, or add it to some warm water as a simple drink that can have soothing effects.
The Wonders of Lemon Water
Mixing lemons and water for refreshment goes way back in history, so trying to debunk the benefits of it is somewhat futile, and it turns out that lemons are good for pregnancy. Due to the all nutrients that lemons provide, which include riboflavin, flavonoids, calcium, niacin, pantothenic acid, phosphorous, magnesium, copper and iron along with vitamins B-complex, A, B-6, C and E, lemons can be a nutritious and relieving choice for women in their first trimester.
Lemons have a way of keeping digestion in check, moreover, they help to detox the liver by preventing the buildup of bacteria and toxins. Anyone who has ever gone crazy on the lemons at a bar can attest; the next day it helps with nausea and stomach aches.
Additional Health Benefits of Lemons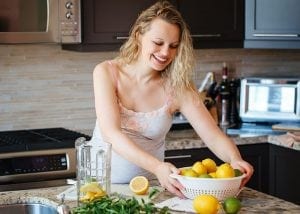 In addition to bringing aid to the stomach, lemons can help other systems in the body as well.
Hypertension.
Lemons can help manage hypertension, also known as high blood pressure, which, if remained unchecked, can lead to strokes. Another common ailment, having high cholesterol, can be controlled up to a certain extent by drinking lemon water, as lemons are cholesterol-free and contain various natural compounds that can help reduce the amount of cholesterol circulating in the blood.
Constipation.
Along with nausea, drinking hot lemon water helps with constipation by way of encouraging peristalsis movements. Some swear by drinking a glass of hot lemon water every morning to get the digestive system moving.
Immune System Boost.
With its high levels of vitamin C, lemons are a natural antioxidant and enhance the immune system. In addition, lemons contain antiviral and antibacterial properties, all of which help support a better immune system, which every pregnant woman needs for the health of both mother and baby.
Respiratory Health.
The natural qualities of lemons are also ideal for clearing the respiratory system of phlegm by thinning out mucus and alleviating some symptoms of asthma.
Bone Health.
Believe it or not, lemons are also good for bone health for the mom and developing baby because of the magnesium and calcium they contain. Along the same lines, the potassium is good for the brain's nerves, and this certainly does not hurt for remedying nausea.
Helps Prevent UTIs.
The urinary tract also benefits from lemons. Consistent lemon juice intake can alter the PH of the blood and urinary tract so that bacteria is unable to proliferate. Using lemon juice daily may help to prevent reoccurring urinary tract infections in pregnant women this way and by increasing the rate of urination and therefore the rate at which toxins are being released.
Be Aware of Slight Cautions
They say that nothing is all good or bad in this world, and lemon juice falls under this rule just the same. Fortunately, their benefits far outweigh the drawbacks to consumption. For starters, lemon water definitely has an acidic quality to it. This acid level is something of a double-edged sword in that it can cause heartburn. This would not be so much of a big deal if it were not for the heartburn commonly experienced in the late stages of pregnancy. In fact, drinking lemon water can trigger this side effect. Lowering consumption is all it takes to reverse this curse and get the body feeling back to normal again.
Because calcium levels drop in a pregnant woman's body, the amount of enamel in teeth feel the pinch. When this coincides with the citric acid of lemons coming into contact with the teeth, serious damage can occur from constant exposure to the elevated acid levels. Again, the solution of preventing this from happening is to simply cut back on how much lemon juice is being consumed and to drink regular water more often, or immediately following lemon-infused water to rinse away excess acidity.
If aromatherapy and fresh fruit isn't an option for your daily routine, try sucking on sour lemon candies to soothe the stomach and settle any nausea.

Everyday You