Pregnancy is a beautiful time, both for the expectant mother and father. The mother gets to feel their new addition grow and kick, while dad gets to watch the mommy-to-be waddling to the car and hear his baby's heartbeat during the prenatal doctor's appointments. As time goes on, the reality of less alone time and romantic trips becomes more clear. Luckily for the future parents, there are fun trips called babymoons. A babymoon is a trip expecting parents take before the baby arrives.
Planning a Babymoon
Taking a babymoon requires lots of planning. The safest time to take a babymoon is between 14 and 28 weeks of pregnancy. Planning a vacation during the first trimester can be tricky because of early pregnancy complications. By the time the third trimester rolls around, the mother typically doesn't have the energy to travel, especially as she grows and the baby positions itself for delivery. Also, many healthcare professionals advise against travel for pregnant women 36 weeks and later.
Babylon Travel Tips and Tricks
There are some babymoon traveling hacks for getting the most out of the pre-baby last hurrah. When planning a babymoon, it is important to do the following:
1. Pick the right location.
Pregnant mothers are relatively mobile during the second trimester, so taking a trip that both parties have always wanted to go on is essential. This is the time to visit spas, go gambling or do whatever you and your partner's heart's desire that can be done without a stroller. When picking your location, do your best to find a place with minimal travel time. Venturing too far off can put you in danger in case of an emergency. It is also wise to make sure the location takes your insurance should that emergency happen.
2. Communicate travel plans to your doctor.
Prior to traveling, running your plans by your physician can help you avoid any potential hiccups. For example, if you unknowingly plan on going to an island that is currently plagued with worrisome bacteria or the Zika virus, your doctor can share that information and recommend that you pick another destination. It is also important to know certain locations require vaccinations. Speaking to a professional will inform you both on what shots are necessary and how they can potentially affect your unborn child. They may also be able to tell you where your destination's medical staff is located, in case of an emergency.
3. Tell others the news.
Many couples, especially first-time parents, are unaware of the potential perks of simply sharing the upcoming arrival of your little one. For instance, there are accounts of couples getting a room upgrade or a gift basket upon telling their hotel wait staff about their unborn baby. Being that they are complementary, it doesn't hurt to casually mention it at the check-in desk. Aside from the perks, it is great to share your happiness with as many people as possible. Sharing this news with others also helps you as a couple bond as you prepare for the birth.
Babymoon Ideas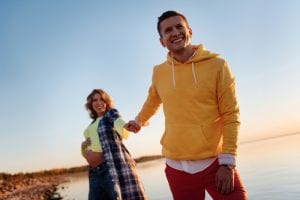 With upwards of 60 percent of expecting couples taking a babymoon, there are a few ideas that are very popular:
Road Trip  – Few things in life beat a road trip, especially as you take the trip with the one you love. Keep in mind, it is ideal to travel within five to six hours of your healthcare provider in case of an emergency. Be sure to also make regular pit stops as well as consistently eat and stay hydrated.
Cruise – When choosing a trip on the high seas, spring for a bigger ship to control potential motion sickness. It is also important to make sure they have adequate medical staff on board.
Staycation – These are ideal because you are familiar with the area and save a ton of money on travel expenses. It's also comforting to be close to your personal doctor.

Even as a time of transition, take this moment to enjoy each other and relax before labor. These are the last moments before dirty diapers, baby-burping and sleepless nights, so be sure to spend them wisely.

Everyday You

Relationships and Sex