Recent studies have shown that consuming pomegranates or drinking pomegranate juice can have numerous benefits during pregnancy. It can help both the mother and the fetus in a few ways.
A study of pregnant rats that was performed in Israel has shown positive results in the unborn fetuses. In particular, it was found that drinking pomegranate juice reduced the risk of premature birth and brain damage to the unborn babies. There are even more benefits that come with the consumption of pomegranates while pregnant.
How Consuming Pomegranates Can Benefit Pregnancy
If you are pregnant, there are already many things you have to think about to keep yourself and your unborn baby healthy. Generally speaking, eating pomegranates may be the last thing on your mind. However, the delicious red fruit can provide you and your baby with numerous benefits. An Israeli study showed great promise in reducing the risk of brain damage in the fetus. The risk of premature birth was also reduced. Additionally, pregnant women who eat pomegranates or drink its juice can lower their risk for developing preeclampsia, a health condition in which blood pressure can rise to dangerous levels while a woman is expecting.
A study performed by researchers at Washington University School of Medicine found that that the juice from pomegranates lessens the risk of injury to the placenta in pregnant women. Because pomegranate juice is rich in polyphenol antioxidants, it can help to reduce stress as well as protect against cell death and the death of placental and fetal cells grown in cultures.
Reducing Damage to the Fetus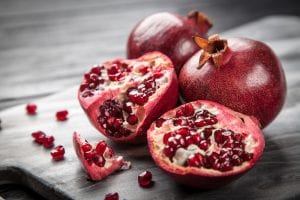 Researchers in Israel acknowledge that many instances of brain damage in fetuses are directly due to inflammation. As a result, they decided to investigate whether drinking pomegranate juice could help reduce the risk of inflammation and prevent infections in pregnant rats. The results were positive and showed that inflammation was greatly reduced in both the rats themselves as well as their unborn babies.
The scientists performed the study using two groups of pregnant rats. One group was given pomegranate juice to drink for several days, while the other did not receive any juice. Those in the juice drinking group showed significantly less inflammation. The fetuses also had reduced inflammation and fewer instances of brain injury. Meanwhile, the rats who didn't receive pomegranate juice saw no improvements.
The researchers stated that they intend on progressing with their study and performing these tests on humans.
Studies on Pregnant Women
Michael Nelson, MD, Ph.D., the senior author of the study performed by Washington University School of Medicine, said that he had great hope that giving pomegranate juice to women whose pregnancies are high risk in their first trimester or early second trimester would give them a much better chance of having healthy infants.
The Washington University School of Medicine's research studied women who were late into their pregnancies. They were divided into two groups and were given either pomegranate juice or apple juice to drink until they gave birth. Twelve women in the pomegranate juice-drinking group and eight given apple juice were studied for signs of stress and inflammation.
Dr. Nelson stated that he was optimistic about the future regarding the positive effects of pomegranate on pregnant women and their unborn babies. He stressed that if the initial findings prove successful, they could help thousands of mothers and their babies every year.

Diet

Prenatal Health