Rheumatic diseases refer to a group of conditions that affect the joints, muscles, and bones. They can cause pain, stiffness, and swelling in the affected areas and can include conditions such as rheumatoid arthritis, osteoarthritis, and lupus.
In the past, women with rheumatic diseases were advised against getting pregnant, due to the potential risks associated with it. However, with advances in medical care, and rigorous monitoring, women with rheumatic diseases can now safely have a baby.
That being said, there are some things that can be done if you're pregnant and have rheumatic conditions to ensure proper health for both you and baby.
Maintain good communication with your healthcare team
Your healthcare team should include your obstetrician, rheumatologist, and primary care provider. Together, they can work to monitor your rheumatic disease and pregnancy progress to ensure you receive the best care possible and avoid any potential health risks as you get closer to delivery day.
Keep up with your medications
Some medications used to treat rheumatic diseases can harm a developing baby, however, many safe medications can effectively treat these conditions as an alternate approach during pregnancy.
Your healthcare team should be made aware, early on, what medications you are on so they can work closely to find the best medication balance for you and your baby.
Stay healthy during pregnancy
Easier said than done at times, but ensuring you are eating a nutritious diet, exercising regularly, and getting enough rest is important. Not only are these important steps for all pregnant women, they are especially crucial for women with rheumatic disease, as pregnancy can sometimes worsen immune responses.
Effects of Pregnancy on Rheumatic Diseases
When it comes to pregnancy's impact on rheumatic diseases and their symptoms, a number of changes in the symptoms can occur. Some women may find that their symptoms improve during pregnancy, while others may experience worsening symptoms.
Such changes are usually temporary and resolved after delivery, however in some cases, pregnancy can trigger a disease relapse. This is more likely to occur in women with rheumatic diseases, such as lupus or rheumatoid arthritis, but should be monitored to ensure proper treatment is sought when possible and necessary.
Risks Associated with Rheumatic Disease During Pregnancy
As previously mentioned, in the past, women with rheumatic diseases were advised against getting pregnant due to the number of risks that presented themselves as a result. While medical advancements have made a healthy and safe pregnancy possible, knowing the elevated risks is still important to ensure care is taken throughout gestation. Some of the added risks associated with rheumatic diseases during pregnancy include the following.
Managing Rheumatic Diseases During Pregnancy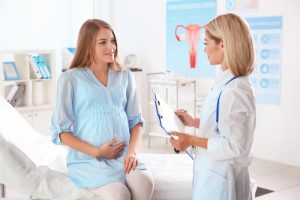 The best way to manage rheumatic disease during pregnancy is by working closely with a healthcare team. They will guide you on how to manage your symptoms during pregnancy and postpartum. In addition, it is important to keep track of your symptoms and follow your healthcare team's advice and keep up with prescribed medications as recommended.
When it comes to medication, your healthcare team will advise you on the best options for your pregnancy, and while there may be some changes in medication needed, there are some medications that are considered generally safe to continue while pregnant and breastfeeding.
Hydroxychloroquine: This is a medication used to treat lupus and rheumatoid arthritis, and is considered safe to use during pregnancy and breastfeeding.
Corticosteroids: Medications used to treat lupus, rheumatoid arthritis, and other inflammatory conditions. These are generally considered safe to use during pregnancy but should be used at the lowest possible dose for the shortest possible time. Corticosteroids should not be used while breastfeeding.
Anti-TNF agents: These are medications used to treat rheumatoid arthritis. Similar to Corticosteroids, these Anti-TNF agents are generally considered safe during pregnancy but should be used at the lowest possible dose for the shortest possible time. Anti-TNF agents should not be used while breastfeeding.
Pregnancy is a special time and is also a time when women with rheumatic disease need to be extra careful in managing their condition. It requires a multi-disciplinary, carefully monitored, and coordinated approach before, during, and after pregnancy, and can ensure the best outcome for mother and baby.


Concerns and Complications

Pregnancy Basics