Teen pregnancy comes with many concerns and challenges that are all manageable when young women have the right types of support.
The teenage years can often be rough enough with all of the pressures that you face at school and at home. Once you add on being pregnant, you may also feel the stress that comes with trying to figure out how to handle an uncertain future. Every year, many teenage girls face the decisions that you are facing, and it is normal to feel confused, overwhelmed and even happy or sad about being pregnant. Although you do have many concerns right now, it helps to know that you will figure everything out. You are also not alone. You can find many resources of support that can help you through this challenging time.
Understanding How Pregnancy Affects Your Health
The most obvious thing that happens after you get pregnant is that you skip your period. You may also experience the early signs of pregnancy such as feeling a little nauseous and tired. This is all due to the changing hormones in your body.
You also need to know that teen pregnancy comes with some health risks that are manageable with the help of your doctor. Young moms are more likely to develop issues such as anemia and high blood pressure during pregnancy. Good prenatal care can help you take care of your health so that you and your baby have the best chances for a healthy pregnancy and delivery.
Figuring Out How to Tell Your Parents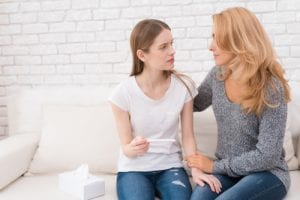 You may be worried about how to tell your parents about the pregnancy. If you have a good relationship with your parents, then you should know that they may be disappointed at first. However, they will ultimately appreciate that you came out and told them the truth. If you are worried about your parents' reaction, it also might be helpful to have another trusted adult help you talk to them. You can reach out to a teacher, another family member or counselor to prepare yourself to have the talk with your parents.
Once you tell your parents, you will also need to demonstrate responsibility. Make plans to attend your health care checkups and take your prenatal vitamins. You can also talk to your parents about how you plan to take care of yourself and the baby in the future once you know what you want to do.
Talking to the Father of Your Baby
A teen pregnancy can happen while you are still dating the father, or you might not find out that you are pregnant until after you've already broken up. Being pregnant while you are still dating the father can give you an additional form of support, but you need to remember that he may also be dealing with so many questions. You may also worry about how to include him in your plans or if you should get married and raise the baby together. Take your time to think through these things. Remember that your focus right now is on taking care of your body and unborn baby. Everything else will work out.
Making Decisions About the Future
Putting together your support network is important, and each person that you add can help you figure out how to plan for the future. For example, you will need to decide how you will manage school while you are pregnant. Most young women decide that finishing their education is important, and you need to know your options for continuing your studies while you recover from your baby's delivery. You may also need to start thinking about how you will take care of your baby. If you live with your parents, then discuss whether or not you will need to work a part-time job and explore your options for child care. While it is a lot to plan, you have several months to work out decisions. You can also rest assured that it all works out in the end.
Dealing with a teen pregnancy is much easier when you have a strong support system that helps you through each difficult moment. Remember that you are strong, smart and capable of handling anything that comes your way. While you will experience a roller-coaster of emotions throughout your pregnancy, finding people to talk to makes each feeling much easier to navigate.


Concerns and Complications

Pregnancy Basics