Did you know that not only is zinc an important nutrient during pregnancy, it is also considered an essential for both mother and baby during breastfeeding. The reason behind this is that zinc is a mineral that helps with many aspects of nursing, from increasing milk production and supply to helping prevent mastitis, but the benefits don't stop there. Read on for more benefits that this nutrient provides during postpartum and breastfeeding for mom and baby.
Aids in Breast Milk Production
Zinc helps promote production of breast milk by stimulating the growth of mammary tissue and promoting lactation, a benefit that is especially important for mothers who are pumping or have a low milk supply. In addition, it is essential for cell growth and tissue repair, and helps absorb other nutrients like vitamin A, which is vital for vision and immune function.
Prevention Against Mastitis
Another significant benefit of zinc during breastfeeding is that it can help prevent mastitis, a painful inflammation of the breast tissue that can sometimes lead to infection. Zinc, in addition to other nutrients. Such as copper and manganese, help to keep the breasts healthy and prevents mastitis by reducing inflammation, build immunity in fighting infections, and promoting healing.
Reduces Inflammation
Not only does zinc help to reduce inflammation in the breasts, but it can also help to reduce inflammation throughout the body. Studies have found that zinc is a key component in the modulation of the proinflammatory responses, in other words; it is involved in helping the body regulate inflammatory responses. This is because zinc is a powerful antioxidant that helps to protect cells from damage caused by oxidative stress.
Immune System Support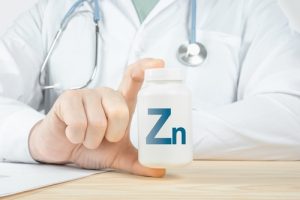 Zinc is an essential when it comes to the immune system, as it helps to keep the immune system strong and functioning correctly. This is especially important for breastfeeding mothers, who are more susceptible to illness due to naturally weakened immune systems during this postpartum recovery and breastfeeding stage. When a zinc deficiency is present, it can lead to cell-mediated immune dysfunctions.
Protects Against Postpartum Depression
A condition known as hypozincemia, or insufficient zinc levels in the bloodstream, has been found to be linked to postpartum depression, a condition that can affect new mothers. Thus, it is assumed that proper zinc intake, along with proper levels of magnesium and calcium, can help in protecting against postpartum depression and mood disorders. This protection against postpartum depression occurs by helping to regulate mood and reduce stress.
Stabilizes Blood Sugar
It is crucial for keeping blood sugar levels stable at any stage in life, however this is especially important for mothers who have diabetes or have gestational diabetes. Research has shown that maintaining proper zinc levels, even when done so through supplementation can result in a reduction in blood glucose levels in patients with diabetes, as well as reduction in total cholesterol. By regulating the sugars, it can help to keep energy levels up and further prevent mood fluctuations.
Helps Regulate Hormones
One important aspect of proper zinc is that is can also help to regulate hormones by increasing the synthesis of the growth hormone and its receptors, as well as helping the body's thyroid hormone receptors in the hypothalamus function properly. With proper functionality, the body can more accurately determine whether or not sufficient thyroid hormone levels are present. This hormone balance is important for both the mother and the baby. It helps to keep the thyroid functioning properly and can help to prevent postpartum depression.
Healing Aid
Did you know that zinc can help with the healing process? This can be especially important for both mothers and babies to heal from delivery and any birth recovery as well as helping to prevent infection.
Aids in Digestion
Zinc is an important nutrient for both the mother and the baby when it comes to producing adequate amounts of digestive enzymes to break down food and absorb nutrients. In addition, zinc can help ease in digestion to reduce gas and bloat.
Synthesis of DNA and RNA
Possibly an unknown benefit of zinc is that it is necessary for the synthesis and stabilization of DNA and RNA structures, which can impact growth and the building and repairing of new cells.
As you can see, there is no doubt why zinc is essential for both mother and baby during breastfeeding as well as pregnancy. From helping with many aspects of nursing, increasing milk production and aiding in the prevention of mastitis, for women who are breastfeeding, including dietary zinc and proper supplementation if necessary is one important nutrition tip that should not be skipped.
Some of the top zinc-rich foods include meat (beef, lamb), fish (such as trout or halibut), legumes (beans, chickpeas, and lentils), nuts and seeds (pumpkin and sesame seeds as well as pine nuts, almonds and cashews) and whole grains (such as quinoa, rice and oats). In addition, a doctor can evaluate your needs and if necessary recommend additional dietary options to include in your daily meals or prescribe a zinc supplement or recommend a postpartum vitamin complex or supplement which has zinc in the ingredients.

Breastfeeding

Postpartum Basics

Postpartum Vitamins