Congenital heart defects can have a major impact upon pregnancy. Therefore, it is important that any heart disease is detected early and treated accordingly.
Common Congenital Heart Defects
Congenital heart defects are abnormalities to the heart or cardiovascular system that individuals are born with. The medical community identifies roughly 18 different types of such maladies.
Of those, the following are found to be most common:
Septal Defects—These anomalies occur when a hole develops in either the atrial (heart's upper chambers) or ventricular (lower) chambers.
Tetralogy of Fallot—This abnormality is categorized by the development of a hole in the septum and can threaten heart muscle development and normal respiration and can result in circulation problems.
Valve Deformities—These maladies occur when heart valves fail to develop properly. Such issues could eventually precipitate circulation challenges and congestive heart failure.
The Importance of Early Detection
Women who plan on becoming pregnant are urged to undergo a thorough cardiovascular evaluation. Therefore, should any abnormality be identified, the individual and her doctor can explore the best possible treatment options. Furthermore, the onset of a cardiac birth defect during pregnancy might place the expecting mother and her unborn child at risk.
Additionally, if a woman knows of an existing congenital malady, healthcare professionals strongly recommend that such matters be brought to the attention of her doctor. Certain defects might pose serious, potentially life-threatening risks for both mother and child.
If a Defect Is Identified During Pregnancy
Unfortunately, however, certain defects might not be detected early in a woman's life or prior to her becoming pregnant. In some instances, the stress of pregnancy could precipitate or exacerbate underlying conditions.
In the event a heart-related birth defect is found during pregnancy, the woman in question might be referred to a physician specializing in adult congenital heart disease, or ACHD. The professional will have experience dealing with specific issues and possess a greater understanding of the risks associated with pregnancy.
The Precautions an Impacted Women May Be Required to Take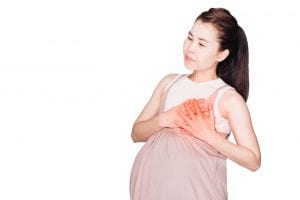 It is important to take necessary precautions when dealing with congenital heart defects during pregnancy. Here are some examples of the precautions you may need to take to ensure both your safety and your growing babies:
Have Frequent Consultation With Physicians
The most critical task an expecting mother with a heart or cardiovascular system defect will need to execute is to see her obstetrician, family doctor or ACHD specialist on a relatively regular basis. The severity of the condition might require that the individual schedule frequent meetings with all three of the mentioned professionals. During appointments, these physicians will monitor the expecting mom's heart, look out for any progression of the specific illness and, of course, observe the health of the fetus.
Pay Close Attention to Body Signs
Pregnant women with known heart defects are urged to pay close attention to any sign their body may be giving them. Should new symptoms arise or existing manifestations worsen, the expecting mother is advised to immediately notify her doctor(s) of such changes.
Treating Heart Defects During Pregnancy
Certain conditions may be successfully treated or controlled with medication. That said, some drugs might have a potentially adverse impact on the fetus. Therefore, a doctor will exercise extreme caution when prescribing an expecting mother therapeutic preparations.
The Labor/Delivery Process
Women should take added precautions during the labor and delivery process. If possible, women with ACHD should attempt to deliver in a medical facility they are familiar with or have ACHD specialists or obstetricians versed in the labor and delivery procedures for women afflicted with heart abnormalities.
The Overall Picture
In many instances, women with congenital heart issues can have a safe pregnancy and deliver a healthy newborn. However, success often requires skilled medical management and planning.


Concerns and Complications

Pregnancy Basics