Acupressure is based on the traditional Chinese practice of acupuncture. It's an ancient healing art and is said to be useful for relieving nausea.
Acupressure is similar to acupuncture, but instead of needles, you're using your fingers to apply pressure to specific points on your body known as acupoints. Pressing these points can help relieve nausea related to different causes, including morning sickness during pregnancy.
Acupoints for Relieving Nausea While Pregnant
To help relieve your nausea, you can have acupressure yourself at home by applying pressure to various acupoints using your fingers. Some of these acupoints include the following:
Youmen (KID21)
You'll find this pressure point just below your breastbone on either side of your upper stomach. Practitioners claim that when you manipulate this point, it might reduce pregnancy-related nausea. Because of this point's location, you might require an experienced acupressure specialist to apply the required pressure.
One study in 2012 involving 80 pregnant women found this acupressure point reduced their nausea intensity.
How to do it: 
Lie on your back
Have an acupressure professional apply pressure to this acupoint since you can't reach it yourself
Nei Guan (PC6)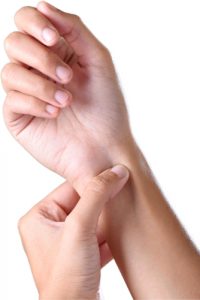 This is a popular acupressure point for relieving nausea. Nei Guan is found on your inner wrist. A study was conducted to assess how effective acupressure was in decreasing nausea during pregnancy. Sixty women participated, and they were placed into one of two acupressure groups: an acupressure point (PC-6) treatment group and a placebo control group. While both groups of women experienced improvement over time, the women in the (PC-6) acupressure point treatment group experienced more significant improvement in their nausea than the women in the control group.
How to do it:
Turn the palm of your hand toward you
Using your other hand, place your first three fingers at the base of your palm across your wrist to find the proper spot
Place your thumb directly below these three fingers
Apply pressure with your thumb; you'll feel two large tendons
Switch to the other wrist and repeat
Gongsun (SP4)
You'll find this acupoint on the inside of your foot. It's just past the padded ball of your foot where your foot starts to arch. This point is connected to the spleen and helps with stomach problem-related nausea.
How to do it:
Sit down and place your foot on your knee with the inside of your foot facing you
Take your hand and slide it down to the side of your foot
Once you find the point (past your foot's padded ball where your foot starts to arch), apply pressure to the area
Switch feet and repeat
Zu San Li (ST36)
This pressure point is located on your lower outer leg a little below your knee. Practitioners claim that when you press this area, it can help ease gastrointestinal problems, including nausea.
How to do it:
Sit down and put your hand on your kneecap
Apply pressure (in a downward motion) on the area where you're resting your pinky finger (just below your knee outside of your shin bone)
Switch knees and repeat
Although these and other acupressure points are good at reducing nausea during pregnancy, you should still be cautious performing acupressure during pregnancy. Certain pressure points can actually induce labor. Plus, you should never apply pressure to a pregnant woman's abdomen.
Practitioners also advise against applying pressure to your LI4 point in particular during pregnancy. This is the highest muscle spot between your index finger and thumb and the area where your thumb is connecting to your fingers.
Morning sickness is never fun, but with pressure points, you might get some relief. Just remember that it's always best to consult with your doctor and a trained acupressure professional before attempting acupressure while pregnant.

Pregnancy Basics

Symptoms and Changes