If there is one thing most new mothers have an issue with, it has to be getting comfortable. Massage chairs have been used to help pregnant women get comfortable.
One of the issues many pregnant women have is body aches. As the baby keeps growing, the mother's body has to adjust to take on the weight. Many times, pregnant women have issues when sitting up or even lying down. Getting a massage is often a welcome idea during such times. Massage chairs have been used to help with this, although some people have reservations about the chairs. There have been speculations that massage chairs can cause miscarriages. If you plan to use a massage chair while pregnant, here are some things you should know.
Concerns About Using Massage Chairs While Pregnant
Most women's biggest concern with massage chairs is that the vibrations might cause a miscarriage. While it is true that the chairs have a vibrating factor to them, the vibrations are mild. An expecting mother does not have to worry about the movement causing distress to the baby.
Another issue people have with massage chairs is that it uses acupressure, which many women are afraid might lead to preterm labor. The chairs are built to mimic human hands, and as such, the pressure applied to the body is not that intense. There have been no reported cases of preterm labor due to the chairs' acupressure.
Heating from the chair is another reason for people's skepticism about using the chairs when pregnant. Exposing the body to heat can lead to hyperthermia, which affects the growth of the fetus. It is the main reason why women cannot go into saunas or soak in hot tubs when they are pregnant.
When Should an Expecting Mother Avoid Massage Chairs?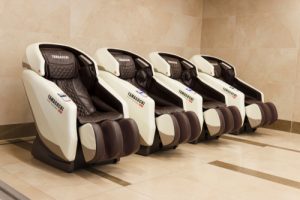 Despite some concerns being unsubstantiated, in some periods or situations, the chairs should be avoided:
During your first trimester: Most miscarriages happen during the first trimester. It helps if you can avoid the massage chair during this time. Even though the fetus is surrounded by amniotic fluid, it cannot handle a lot of strain.
When the chair has a heating pad, it might not produce a lot of heat, but it is better to be safe than sorry. Avoid heating pads when you are pregnant, as they can cause hyperthermia.
You have a high-risk pregnancy: If the doctor recommends bed rest during your pregnancy, then the massage chair might not be an option for you. Bed rest is meant to limit any sudden movements that might cause fetal distress, and the massage chair will move around a lot. In such situations, you should stay off the chair.
Chronic back pain: If you have severe back pain, it is best to talk to your doctor before going onto the massage chair. The massage chair might worsen the pain instead of helping.
Benefits of the Massage Chair
When people see that there are scenarios when massage chairs should be avoided, they wonder if they should even be used. However, there have been many benefits to using massage chairs while pregnant, and here are some of them.
It helps improve blood circulation in the body. Many times, the blood vessels are constricted during pregnancy, which can lead to varicose veins. The massage can help prevent that.
It helps reduce stress. There are many hormones released when a woman is pregnant, and these can lead to stress. Studies show that sitting in the massage chair once a week for twenty minutes can go far in reducing these stress levels. Doing so also puts the expecting mother in a better mood.
It reduces the pressure on a woman's limbs and body.
Pregnancy can take its toll on a woman's body. With massage chairs, there is a way for this pain to be dealt with. Ensure you talk to your doctor if you have any concerns and have the medical professional monitor your vitals, as well as those of the fetus, before and after you get in the chair.


Concerns and Complications

Everyday You

Pregnancy Basics