Your adorable baby bump comes with a variety of possible conditions. It's quite common, for example, that expectant mothers experience some skin changes. These changes occur because of your fluctuating hormones that happen throughout pregnancy to support the growth of your baby.
One of the most common skin conditions pregnant women experience is telangiectasia, or spider veins. Telangiectasia is a condition that creates thin veins that resemble spiders because of their thread-like appearance. Your hormones cause your body to store excess blood, which causes your veins to swell just beneath the skin's surface.
Whether this is your first baby or your first pregnancy dealing with spider veins, here's an in-depth guide to understanding their effect on your health and dealing with them.
Understanding Spider Veins
While most pregnant women experience spider veins in their legs, it's also common for them to appear on the face. These veins appear when your heart valves are unable to fully close. The remaining blood leaks back into the veins it came from. Gravity causes the blood to pool in your leg veins, which makes them more visible than in other body parts.
Telangiectasia appears in many different patterns. Of course, they look like spider webs, but they can also take other shapes like sunbursts, tree branches or unconnected bunches of lines. They are either a reddish, purple or blue hue depending on your skin tone.
Pregnant women who are on their feet for a while can experience painful burning sensations. It's also possible to feel throbbing and a sense of heaviness. Typically, these veins don't cause any further complications for you or your baby, but they can be bothersome. If the pain persists or makes it difficult to perform your day-to-day tasks, it's best to speak to your doctor immediately.
What Can I Do to Reduce the Risk of Telangiectasia?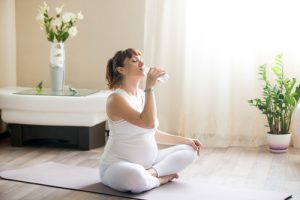 There are some things you can do to minimize your risk of developing spider veins. For one, you can make sure you have good blood circulation, especially in your legs. Be sure to keep up your hydration, especially once you find out you're pregnant. You can also do aerobic exercises.
Aerobic exercises allow you to take in more oxygen. Biking, walking, running and swimming are some of the many exercises you can do to improve your circulation. Increasing your fiber and vitamin C intake also helps reduce your risk.
If you're currently dealing with this condition, you'll be happy to hear that this is usually a temporary symptom of being pregnant. For most women, spider veins fade within the first three months after giving birth, which is when their blood levels go back to normal.
You should also speak to your doctor about wearing compression socks or stockings. These stockings help prevent severe leg swelling and the appearance of telangiectasia. If you're into holistic practices, you can also try acupuncture since it's safe before, during and after pregnancy.
If your veins don't disappear within a few months after you give birth, you may need to seek professional help to get the swelling down. Once the severity of your condition is assessed, you may need to try a series of surgeries to bring the swelling down.
Sclerotherapy is one of the top procedures to remedy telangiectasia and other vein conditions. Once you develop scar tissue, your veins will close, which cuts off excess blood flow and reduces the swelling.
A number of factors can contribute to your chances of developing spider veins, especially during your pregnancy. If your family has a history of telangiectasia, you should be proactive about preventing this condition from occurring. A healthy diet, exercise and avoiding extended periods of strain on your legs are great ways to regulate your circulation and keep your chances of vein swelling at a minimum.
If you do end up getting spider veins, practice the previously mentioned home solutions. If they worsen or persist months after your pregnancy ends, be sure to speak to your healthcare provider for professional options.


Concerns and Complications

Pregnancy Basics