When it comes to breastfeeding, many new mothers focus on ensuring that their baby gets the proper nutrition, but often overlook their own nutrient needs. While focusing on baby's needs can overlap with ensuring mother has proper nutrient intake, sometimes mom's needs can come in short.
This article will explore the many benefits of iron not just during pregnancy, but specifically for breastfeeding mothers and discuss how to ensure you are getting enough. It will also look at some common causes of maternal anemia and how to prevent it.
Maternal Anemia; Causes and Prevention
Anemia is a common problem, especially among women of childbearing age as it can lead to severe pregnancy problems such as developmental issues, low birth weight and premature babies. While these issues can be severe, the good news is that anemia is preventable and treatable. The first step is to understand the common causes of anemia so as to avoid them, or at least know what to look for as a risk factor.
1) Poor Nutrition
Often times, when we hear the word anemia, we instantly think iron, and this is for good reason. Iron is a mineral that combines with protein to form hemoglobin, the red substance in blood that carries oxygen to the body's cells.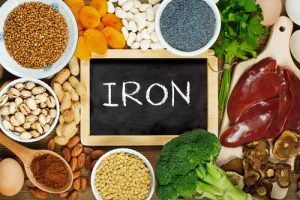 Because of this, diet is one of the main causes of anemia, and the easiest to remedy. A lack of the mineral, iron, in the diet can lead to anemia. Because of iron's impact on maintaining healthy blood, adequate nutritional levels of this mineral help prevent nutritional anemia while also increasing the body's resistance to infection. Iron is found in food such as meat, poultry, fish, dark leafy vegetables, beans, nuts and seeds. It is also found in fortified foods such as cereals and breads.
2) Blood Loss
Blood loss can also cause anemia. While blood loss during pregnancy, childbirth, and after the delivery, can all be factors, slow, chronic blood loss from an ulcer or other health issue within the body can also be a cause. The reason for this is that when blood loss occurs, it depletes the body's store of iron, leading to iron deficiency anemia. In these cases, depending on the source of blood loss, treating the underlying condition is essential. If blood loss concern is due to trauma or an event such as childbirth, doctors may suggest taking a blood-building supplement if blood loss risk is a concern.
3) Poor Blood Cell Function and Production
By now it should be evident that healthy blood is key to preventing anemia. Thus, another risk factor for the condition is poor blood health or production. When blood cell function or production is low the body lacks enough healthy red blood cells to carry adequate oxygen to the body's tissues. One condition with this is called hemolytic anemia, and is a disorder in which red blood cells are destroyed faster than they can be made. This type of anemia rick factor is due to a number of factors including infection, medication side effects, autoimmune disorders, cancers, or more severe biological reactions. In these cases, the underlying cause is typically more severe and thus requires more in-depth treatment, such as blood transfusions, medication, surgery or lifestyle changes depending on the cause.
Benefits of Iron for Pregnant and Breastfeeding Mothers
There's no doubt adequate iron intake is essential for baby's development and maintaining a healthy pregnancy. When it comes to postpartum and breastfeeding, the benefits continue, not only for a breastfed baby, but for mom as well.
To get the most benefit from iron, it is important to eat iron-rich foods, and, when necessary, include iron supplementation to compensate for lower dietary levels. Some good sources include red meat, dark leafy greens, beans, and nuts. If you are concerned about your iron levels, talk to your doctor about taking an iron supplement.

Breastfeeding

Postpartum Basics

Postpartum Vitamins