Most parents look forward to the day that their little one starts crawling. However, what they don't look forward to is the anxiety and stress of wondering if their home is a safe place for their tot to explore. Baby-proofing your home is essential to the health and well-being of your new baby. Here are some of the ways you can help make your home safe for your little one from day one.
Think Like a Baby
One of the best ways to start baby-proofing your home is to see the home from your baby's perspective. Get down on the floor and look around. Do you see anything that looks shiny or interesting? Anything that lights up, makes noise or is brightly colored is going to be irresistible to your little one, so start there first.
If you have heavy equipment like cable boxes or modems in your living room, consider moving them to high shelves and tying up the cords. Look for anything that a child can pull down onto their heads or anything that they may touch and burn or cut themselves on.
Contain Those Cords and Wires
Cords can cause terrible injuries, so start by crawling around on the floor and checking for any dangling cords. In the kitchen, this can be the toaster cord, a coffee pot or a slow cooker. In the living room, lamp cords and television wires can prove a dangerous hazard for the little one. Use plastic cables to bundle cords and get them out of the path of your crawling child. You may also consider tying cords to the back of electronics.
Cords from your window coverings can also prove dangerous. Babies can get their heads tangled up in these cords and be strangled. If you can replace your mini-blinds with tension shades or curtains, you can rest assured that your child will be safe from strangulation hazards. If you don't want to replace your blinds, be sure that the cords are tied up and out of their reach.
The Checklist:
Cut the cords, so they are no longer looped and hang freely.
Tie or wind the cords, to prevent them from being reached.
Use cordless blinds to avoid any risk of cord injury or mishaps.
Cover Your Outlets
Electrical outlets prove an especially dangerous hazard to a crawling tot. Buy shock guards and cover all outlets that are not in use. There are several types of shock guards that you can use. Some slide to open, allowing you easy access to plug in various appliances. Others are plastic covers that you simply remove when you want to use the outlet. Remember to search behind furniture to find any uncovered outlets as well.
The Checklist:
Outlet covers can be inserted into an outlet to block or provide limited access.
Power strip covers cover up outlets while they are in use.
Lock the Doors and Cabinets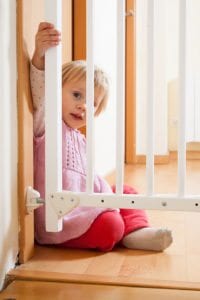 Babies are hurt and killed each year when they get into cabinets and consume poisonous products. If you have cabinets with handles, install slide locks that will prevent your little one from opening them. If you have the type of cabinet doors that don't have handles, move all cleaning products to a locked cabinet that the child can't access. In addition, falling pots, glass dishes and appliances can injure a crawling tot, so remove these items if you can't lock the cabinet. Be sure to use doorstops and door holders to protect those little fingers from getting slammed in doors and cabinets. When it comes to the trash, be sure to keep trash in inaccessible cupboards or use cans that contains child-resistant covers or locks.
The Checklist:
Doorstops prevent doors from closing completely or too quickly, these are often made of foam or rubber.
Door latches prevent toddlers from opening doors.
Door knob/lever locks can be attached to door handles to prevent them from being easily used.
Protect the Stairs
Little ones who start crawling are not going to confine themselves to one space in your home. They will explore near stairs as well. Preventing falls is critical at this stage. Install baby gates at the tops and bottoms of stairs to keep them from taking a tumble. Remove everything from the stairs to keep them from tripping and falling. You can also use these gates to keep them out of rooms that are not fully baby proofed.
The Checklist:
Install baby gates to block toddlers from accessing stairs.
Teach stair safety with children as they grow. Teach toddlers to scoot down the stairs on their bottoms when they are first learning to roam around, then how to properly hold the railing when using them. Be sure to let children know that stairs must be walked on safely and aren't a place to play.
Check the Bathrooms
The bathroom is one of the most dangerous rooms of the house for a crawling little one. There are dangerous chemicals, standing water and even sharp objects. Babies can fall into the toilet and drown, so be sure to keep toilet lids down and install a toilet lock to prevent the lid from being lifted accidentally. They can also drown if there is standing water in the bathtub. Medicine cabinets contain a host of drugs that can harm babies, so the bathroom should always be off limits to crawling little ones.
Place razors, nail clippers and other sharp utensils in a locked cabinet or out of reach and keep all cosmetics and medications in a secured location. Treat all supplements and vitamins, whether they are stored in your bathroom or kitchen, as if they were prescriptions and be sure they are locked up or well out of reach. It is difficult to fully baby-proof the bathroom, so the best measure is to lock the door using hook-and-eye locks high on the outside of the door or by placing a child-proof cover over the doorknob when it is not in use.
The Checklist:
Safety latches keep children out of trash cans. You can also move them under a sink when they cannot be accessed.
Keep poisons and sharp objects in high cabinets where they cannot be reached.
Replace soaps and detergents with natural non-toxic soaps, if desired.
Use toddler toilet seats over standard toilet seats, to prevent your little one from falling in.
Hide the toilet paper or place in an unreachable location.
Use your medicine cabinet, for all items so your toddler can't reach items.
Place covers on the faucet in the tub to prevent head bonks and prevent your child from fitting their mouth around it.
Place a non-slip mat on the bottom of tub to prevent slips and falls.
In the Nursery:
The nursery is another critical room that parents should pay attention to when baby-proofing.
Baby's Crib:
Your child's crib may have a bar that is low enough that he can climb out. Be sure to raise this bar to make sure that he won't be able to scale over the side. Remove heavy or fluffy blankets, pillows or stuffed animals that little ones can pull over their heads from inside their crib. Avoid using crib bumpers and drop-side cribs. When a baby is able to stand or pull themselves up, be sure that the mattress is in the lowest position and any mobiles or hanging toys are well beyond their reach.
The Checklist:
Buy new furniture (if possible).
Read safety ratings and do your research before purchasing the crib to ensure it has proper safety features.
Use earthquake straps or baby proofing straps to secure the crib if necessary.
Put bumpers or padding on corners to protect little ones from hitting their heads.
Furniture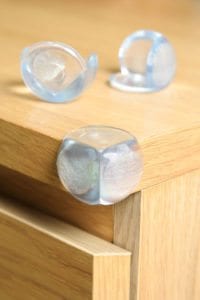 Secure all dressers to the wall so your little one can't pull it over onto themselves and move any heavy items that can topple over pushed as far back as possible. In addition, use corner guards for sharp-edged furniture that may cut or poke your baby as they crawl or begin to reach out when trying to learn to balance and walk.
The Checklist:
Arrange furniture strategically to prevent your child from accessing dangerous pieces or being trapped between furniture and walls.
Install corner covers to soften the hard corners of tables and bookcases.
Use soft rugs to create a cushion beneath any furniture your toddler likes to climb upon.
Teach your child how to use furniture appropriately and safely and ensure they know it is there for a purpose and is not a toy.
Baby Monitors and Night Lights
When it comes to baby monitors and nightlights, be sure that power cords are at least three feet away from your baby's crib to avoid possible strangulation hazards. Never place your baby monitors inside or on the crib as their exploring hands may hit or even turn off the monitor.
The Checklist:
Keep controls and monitors out of reach, where little hands can change settings, turn them off or break them.
Bundle cords neatly, use surge protector covers and keep out of children's reach.
Test monitors regularly to ensure they are still working properly prior to leaving the room.
Replace batteries often, according to manufacturer instructions or as needed.
Toys:
Finally, inspect all toys and make sure there are no small choking hazards.
Thoroughly vacuum the floors and make sure there are no tiny buttons or other small items that can choke your crawling child.
Crawling babies need space to explore. Baby-proof your home today and give him a safe space to grow.
The Checklist:
Check the recommended age range for toys that are given to your child.
Get rid of old toys, or wash them and put them away for future siblings.
Research toys before buying them; toys should be of sturdy construction, be age appropriate, and made with lead-free paint.

Preparing at Home

Preparing for Baby