Ringing in the New Year takes on a fresh meaning when you are pregnant. Use these ideas to plan a fun-filled celebration that is perfect for a mom-to-be.
While you might not be taking part in some of the more adult aspects of the holiday festivities, you can still start the year off right by coming up with a few of your own ideas for celebrating the occasion. After all, there is so much more to enjoying this holiday than just sipping on champagne. While it is true that this year will definitely be different from the last, you can add your personal twist on the festivities to enjoy this final holiday bash.
Create a Signature Mommy-Friendly Cocktail
New Year's parties are known for being a time when people let loose and enjoy a few alcoholic beverages. While you might not be able to indulge in a lovely libation, you can concoct a cocktail that is just as delicious. Spend a day at home developing a signature drink that is pregnancy-friendly so that you can still mingle with a glass in your hand. Alternatively, you could try a virgin version of your favorite beverage. You may just find that you like it better than the old way, and this is a great tip for keeping everyone in the dark if you aren't quite ready to announce your pregnancy yet.
Make Sure to Wear Flats
If you plan to go out, then you know that you could be on your feet for hours. Although seeing that parade or watching the ball drop sounds great in theory, you might be changing your mind by the end of the evening if you wear the wrong footwear. Go shopping, and find the cutest pair of flats possible. Pair them with a dress that shows off your lusciously curvy figure. Let the other ladies wear those stilettos that will fill their next day with pinched-toe regret while you rock those kicking boots that highlight your lovely legs.
Ring In the New Year In Your Pajamas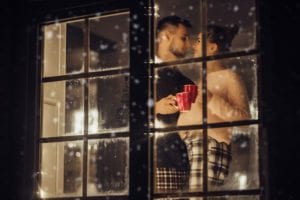 At this point in your pregnancy, going out on the town may not sound so appealing. If not, give your closest girlfriends a call and host a New Year's slumber party. Invite everyone to show up in their pajamas, and do all of the things that you did when you were kids. From giving each other facials and manicures to playing silly party games like "Truth or Dare," you'll love having this special bonding time before your baby makes their arrival. Just make sure to take lots of pictures to document this memorable occasion.
Plan a Final Babymoon
Although you will still get to travel once you have a kid, your vacations may not quite be the same. Instead of heading to the local hot spots for the holiday, invite your partner to go for one last vacation before your little one arrives. If it's later in your pregnancy, then you can still enjoy a babymoon by planning a little staycation with your partner. Make a plan to visit a place in your community that you've never been before. Whether you check out a natural site such as a waterfall or go to that new restaurant everyone is talking about, you'll love the excitement of doing something completely new for the beginning of the year.
Host a Scrapbooking Party
New parents often document every one of their baby's first moments. Yet, it's easy to overlook that the past few months have been full of special occasions that should be documented. Grab your other mom-to-be friends and host a scrapbooking party with a theme that revolves around all the amazing events from last year. Looking back on special moments such as your baby shower or the moment that you first bought a onesie will get you excited about all the new things you will experience in the upcoming year.
While this year's toast may be a glass of bubbly grape juice, you can still join in on the fun during this exciting event before your baby comes. Whether you choose to go out or stay in, having a few strategies in mind will ensure that you enjoy the entire night.

Preparing at Home

Preparing for Baby