Guest Author: Mia Johnson
A tummy tuck is a cosmetic surgical procedure that helps flatten the abdomen by removing excess fat and skin on your stomach and it also tightens the muscle. The best candidate for an abdominoplasty is a non-smoker who is in good physical condition and at a stable weight. They also need to have pockets of fat or loose skin that has not responded well to diet and exercise.
Abdominoplasty is an appropriate procedure for slightly obese people who have lost elasticity in their skin and for women whose skin and muscles have been affected in their pregnancy. Many patients undergo abdominoplasty after pregnancy or dramatic weight loss.
There Is No Shame in Getting A Tummy Tuck
It is well known that Australians love plastic surgery. It is so popular that they passed the United States when it comes to procedures per capita.
Roughly 500,000 cosmetic procedures were carried in 2017. That includes around 20,000 boob jobs, 30,000 liposuction procedures, and $350 million' worth of Botox injections.
The Procedure
During the abdominoplasty procedure, the patient goes under general anesthesia. Then two incisions are made, one from the hip bone on one side of the hip bone on the other side of the body, close to the pubic area, the other incision around the belly button. The skin is then separated from the abdominal muscles.
The abdominal muscles are then pulled together and stitched into place for a narrower waist and solid abdomen. The separated flap of skin is then stretched over the tightened muscles and excess skin is removed. The belly button is reattached to a position where it looks natural. The incisions are closed and a sterile dressing is applied over the operated area. The abdominoplasty procedure can take from anywhere from two to five hours to perform.
It Won't Make You Drop Weight
Some patients can lose a few pounds from the procedure; a tummy tuck should be done when a patient is already at his or her ideal weight. Tummy tucks should not be thought of as a weight loss procedure, but instead as a contouring procedure.
Also, tummy tucks can't directly treat stretch marks, since the skin is pulled downward, stretch marks may be moved, lowered, or potentially removed if they are part of the lower excess skin.
Types of Tummy Tucks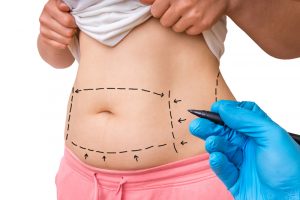 Your cosmetic surgeon will recommend the type of tummy tuck that will achieve your desired look and create natural-appearing results with the least scarring possible.
Mini-Tummy Tuck: Improves the Lower Belly with Less Extensive Surgery
This technique involves one incision made just above the pubic area, through which your surgeon will tighten loose muscles, flattening the "pooch", and remove excess skin to restore a flat abdominal wall.
The scar from a mini-tummy tuck is a thin, horizontal line that is just a few inches long. Benefits of a mini-tummy tuck include a shorter, less involved procedure, a quicker recovery, and a flatter, slimmer lower abdomen that looks better in swimsuits and fitted clothing.
Classic Tummy Tuck: Improves the Upper & Lower Abdomen
A horizontal or U-shaped incision made above the pubic mound, your cosmetic surgeon will remove excess skin and tighten the abdominal muscles. In some cases, a second incision is made around the belly button to address excess skin above the belly button and achieve the most natural-looking results.
The resulting scar from a full tummy tuck looks similar to the mini-tummy tuck scar, but will typically be longer, being from hip bone to hip bone. A full tummy tuck scar can usually be hidden beneath the underwear. Benefits of a full tummy tuck include a much flatter, smoother stomach, reduced appearance of stretch marks, and enhanced comfort in pants or skirts.
Extended Tummy Tuck: Improves the Upper & Lower Abdomen and Flanks
Although it calls for a longer incision, an extended tummy tuck removes excess and hanging skin from the front and flanks, as well as tightens the abdominal wall.
The resulting scar from an extended tummy tuck can be hidden by clothing, including many swimsuits, but it may not be entirely covered for some patients. Even so, many patients consider some visible scarring a worthwhile price for improved body shape.
Timeline for Recovery
You'll want to reserve a time frame for your recovery so you have enough time to heal and take a break from certain aspects of your life. Make sure to make the proper arrangements and that you are fully prepared for the recovery period.
Your drains will be left in for a couple of days after the surgery. You'll be taught how to take care of and empty the drains. You'll need to take an antibiotic and an anticoagulant while your drains are in place.
You'll wear an abdominal binder for about 6 weeks. This will help avoid fluid buildup and helps to support your abdomen.
While the recovery period is shorter for a mini-tummy tuck, you'll still need to avoid strenuous activity for at least two months. This includes any vigorous exercise or heavy lifting.
How to Choose the Best Cosmetic Surgeon
When considering plastic and reconstructive surgery, the most important choice you will make is deciding on a cosmetic surgeon to perform your procedure. Tummy tuck surgery requires specialized training and experience to ensure a safe and successful outcome. When you consult with a potential cosmetic surgeon, make sure you ask how many tummy tucks they have performed and how frequently the surgeon performs this procedure.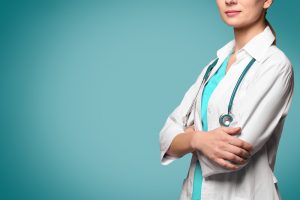 Confirm a cosmetic surgeon's training and board certification. Choosing a board-certified cosmetic surgeon ensures that the person performing your surgery has had formal training in plastic and reconstructive surgery and that your procedure will be performed in a fully accredited surgical facility.
After that, look at the before and after photos, paying special attention to the results of patients whose bodies look similar to yours. This will help you get an idea for surgeon's aesthetic sensibility.
What to Expect After Your Surgery
Your surgeon or nurse will properly inform you about how to recover at home.
You will be told:
How to care for your incisions and drain tubes
What to be aware of in terms of infection and overall health
What to avoid in terms of physical activity that can affect your incision line
When you need to see your surgeon again
How long to wear the abdominal pressure binder
How much to rest
What you can and can't eat
You'll need to have someone who can drive you home from the hospital and help take care of you for the first few days after your surgery. You can shower 48 hours after they remove your drainage tubes.
You'll be prescribed an antibiotic. You will be given some type of medication to apply to the skin. You shouldn't take any medicine containing aspirin unless directed by your surgeon.
You should avoid alcohol if you're taking pain medication, and stay any form of nicotine for at least two months. Smoking can slow down the healing process and can cause complications.
The Risks of Getting A Tummy Tuck
Along with the usual risks that come with surgery and anesthesia, the risks of abdominoplasty include the following:
Asymmetry
Scarring
Loose skin
Numbness in the skin
Poor results
Tummy tucks aren't for everyone, and that's okay. It's a slow and somewhat painful process, so focus on getting better each day as you move toward your desired goal of a full recovery. If you decide to go the route of a tummy tuck, be sure to check in with your surgeon or nurse if you have any questions or concerns.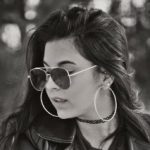 Mia Johnson is a writer with a ten-year-long career in journalism, recently writing on behalf of True Protein in Sydney. She has written extensively about health, fitness, and lifestyle. A native to Melbourne, she now lives in Sydney with her 3 dogs where she spends her days writing and taking care of her 900 square feet garden.

Postpartum Basics

Work, Life, Baby, Balance