When one becomes pregnant, the body undergoes a series of changes in order to accommodate the developing fetus. However, some of these changes result in changes in the epidermis or the outer layer of the skin. Specifically, the skin may have dark patches that appear on the face.
This change that happens when a woman is pregnant is often described as the "mask of pregnancy." This mask is formally known as melasma, or chloasma. Melasma happens to be a very common occurrence in pregnancy, as it affects nearly 50 percent of pregnant women.
The Origin of Melasma
Melasma is a skin condition that does not have a specific known cause. While it is often seen during the childbearing period, all that exists about its origin are theories. One states that the cells that produce skin color in the body (melanocytes) start to produce too much color. However, there is another possible explanation that comes in the form of hormonal changes that take place.
These hormonal changes include the rapid increase in progesterone, estrogen and melanocyte-stimulating hormone. These hormonal levels tend to see a rapid shift during the second and third trimesters. It has been seen in postmenopausal women who get progesterone replacement therapy, as they are more likely to develop melasma. Genetic predispositions are also possible, and the condition can be exacerbated by extended exposure to the sun. Also, it frequently occurs in subsequent pregnancies.
Physical Manifestations
Melasma manifests as brown and gray-brown patches on the face, cheeks, chin, upper lip, forehead, and bridge of the nose. It can also appear on any part of the body that can be exposed to the sun such as the neck and forearms. While melasma typically goes away on its own after a pregnant woman delivers, it can still be an annoying side effect for many, especially for cosmetic purposes.
Protection and Treatment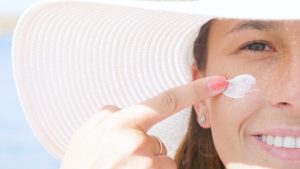 The first stage of protection against melasma is to prevent it from getting worse through sun exposure. Women are recommended to try a sunscreen that has an SPF level of at least 30. Ideally, the sunscreen will have titanium dioxide or zinc oxide. Other alternative medications include four percent hydroquinone and other skin-fading creams. When using products with hydroquinone, however less is best as it has a relatively high absorption rate into the bloodstream. Consequently, in most cases normal cosmetic use can be continued without compromising the safety of the developing child. Laser treatment is an option many like to use as well, but that only provides a temporary reprieve, and studies have not confirmed this as the most effective way to combat the darkening of the skin.
Some of these treatments, however, may carry some side effects. The most common one is skin irritation. A condition called exogenous ochronosis is also possible as the skin actually darkens even more when the bleaching agent is being utilized. This is uncommon and typically develops in other countries, but the risk remains with extended use. A pregnant or postpartum woman is recommended to see a dermatologist if she notices any of these side effects.
Can Melasma Be Prevented?
In most cases, preventing melasma from occurring in the first place is a difficult proposition. While the risk can be drastically reduced by reducing sun exposure, there are certain risk factors that are beyond the control of a carrying woman. There is also a specific course of treatment for people with different skin types because the products can respond in different ways.

Beauty

Everyday You