During pregnancy there are many dietary restrictions and additions that are important to follow for the health of your growing baby. Likewise, with breastfeeding there are also important nutrients and foods to make sure that you are getting and avoiding during the breastfeeding period.
As a mother, you want to make sure that your child is getting the best that they can when it comes to nutrition. When you are breastfeeding all of the baby's nutrition and vitamins come from your diet and lifestyle habits.
We have put together a guide of things to eat and foods that you should avoid to help provide the best possible breastfeeding experience for you and your baby.
Why Breastfeed?
Breastfeeding provides all sorts of benefits for both mom and baby. Breast milk contains most of the nutrients that your baby will need for the first six months of their life.
Breast milk composition is highly regulated and your diet will have some limited effects on the concentration of some of the nutrients. On average an ounce of breast milk contains 19- 23 calories, with 3.6- 4.8 % from protein, 26.8 – 31.2 % from carbohydrates, such as lactose, and 28.8 – 32.4 % from fat.
The composition of breast milk can change during each feeding and over your lactation period depending on the needs of your baby.
When breastfeeding it is important to eat healthy and to take care of yourself and your baby. By eating healthy foods it may also help you shed some of the pregnancy weight faster than indulging in sweets or an unbalanced diet.
Things That You Should Eat
When you are breastfeeding it is vital to get the proper amount of nutrients within your diet for both you and baby.
Here are some things that you should try to include within your diet:
Protein – Try to include at least 2-3 protein foods a day. You could eat foods such as: meat, fish, poultry, dairy, eggs, beans, seeds, and nuts.
Fruit – Eat at least two servings of fruit a day.
Vegetables – Make sure to eat at least three servings of vegetables a day. This should include yellow and dark leafy greens.
Water – Make sure to drink enough water throughout the day. You may find yourself quite thirsty while breastfeeding, it is important to drink enough water to satisfy your thirst.
Whole Grains – Including whole grains such as pasta, cereal, oatmeal, and whole wheat breads into your diet will help keep you full throughout the day.
Multivitamins – Some women may lack key nutrients and taking multivitamins will help replenish what is missing.
Omega – 3 (DHA) – This vitamin was something most pregnant women are already taking, by continuing to take this while breastfeeding it will help provide vital nutrients for baby's brain development and function. DHA has also been shown to help improve vision within babies.
Vitamin D- Vitamin D can be found in fatty fish, fish liver oils, and fortified foods. This will help with immune function and bone health. Many women do not produce enough vitamin D within their breast milk and may be required to provide vitamin D drops to help supplement in the baby's diet. This is something that you should discuss with your pediatrician or lactation consultant.
The same dietary restrictions that apply to a pregnant woman no longer apply when you are breastfeeding. However, if there are certain foods you are concerned about you can always consult your doctor or a lactation consultant.
How Often You Should Eat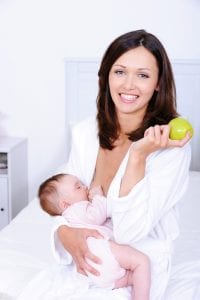 While you are breastfeeding you are burning a lot more calories than you were pregnant. Therefore, you will need to eat even more calories throughout the day. It is best to consume an extra 500-600 calories per day to upkeep with breastfeeding.
If you still have extra baby weight from your pregnancy, these calories will be naturally used by your body to help produce milk. However, if you have lost all of your baby weight it is very important to keep up the extra calorie intake so that you and baby are properly nourished and energized.
Once you are no longer exclusively breastfeeding you can lower your caloric intake as necessary. Your body will help guide you along as you progress with breastfeeding. If you feel nauseous or dizzy throughout the day you may not be eating enough. Sometimes eating small meals throughout the day or keeping snacks on hand while breastfeeding can help to ease these symptoms.
Losing weight after pregnancy can take some time for most women, it is important to not restrict your dietary intake because this could result in a drop of milk production while breastfeeding.
Give your body the time that it needs to heal and go back to your old figure.
What to Avoid
While breastfeeding there are a few things that you will want to avoid to help with your milk supply and to make sure that baby does not have.
Alcohol – After waiting nine months you may be ready to drink alcohol again. You can absolutely do that while breastfeeding, but make sure to wait two – three hours after each serving (12 oz beer, 1.5 oz liquor, 6 oz wine) before breastfeeding or pumping. Alcohol will not stay in your milk, once time has passed. Once your blood alcohol level goes down and you are sober, the alcohol is gone from your milk. If your breasts are full shortly after you have consumed alcohol, you may need to "pump and dump" to help relieve yourself.
Caffeine- Most babies are not bothered by caffeine when it is passed through your milk. However, if your baby is irritable or is not sleeping well, you may want to limit or avoid caffeine all together. Newborns can be more sensitive to caffeine. It is recommended to limit your caffeine intake to about two – three cups per day.
Processed Foods – Try to avoid processed foods as much as possible as they contain high levels of sugar, calories, and unhealthy fats.
Allergies within Your Baby
Some mothers can find that their baby is overly fussy or spitting up after each feeding. While colic and reflux are not usually caused by food allergies there could be other symptoms that occur causing baby to feel this way. This may be due to an allergy that the baby has to something the mother is eating.
Some babies may develop a food allergy which could result in green, mucus-like and blood-speckled stools. Other symptoms that can occur may include rashes, eczema, or diarrhea.
The most common allergies to food are caused by soy products, dairy products, eggs, and wheat. While it is much less common, allergies to fish, peanuts, corn, or nuts can occur as well.
If you are concerned about your baby having a food allergy, you can try to keep a food diary to help you know which foods are causing the problem. Removing suspected foods from your diet carefully should solve the problem, but it could take four- six weeks for the symptoms to resolve.
As long as your baby is gaining weight and is not anemic, then the allergy should not cause long-term problems. You can continue breastfeeding. However, you may want to contact a registered dietitian to help make your diet change easier.
If the symptoms are severe, then you should always consult with a doctor.

Breastfeeding

Postpartum Basics