For those who may not be familiar with Supple Cups, they are devices used to help gently stretch a mother's flat or inverted nipples, which, in turn, allows their babies to get a better latch. It should be noted that, unlike nipple shields, these devices never actually go into the baby's mouth.
Supple Cups are used either during the final weeks of pregnancy, as a means of pumping breast milk, or after giving birth. They are available in the following sizes: 11, 12.5, 14.5 or 16.5 millimeters.
Choosing the Right Supple Cup Size
Because Supple Cups come in a variety of sizes, choosing the right one can be difficult for some women. Ideally, you should choose one based on the diameter of your nipples. This process is no different from deciding on the right nipple shield for a breast pump. Most mothers will find that they need a different Supple Cup size for each breast.
In choosing the correct sizes, lactation consultants often recommend starting with a cup measuring 12.5 millimeters as it is the most common size among women. Of course, if the fit is not ideal, women are free to go up a size if needed. Although Supple Cups measuring 11 millimeters are available, they are seldom used for breastfeeding.
What If You Can't Accurately Measure Your Nipple Size?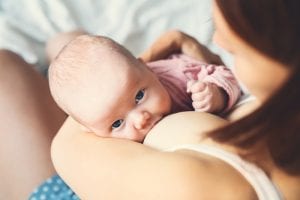 For those who are unable to get an accurate measurement of their nipples, it is always a good idea to start with a larger size, like the one measuring 14.5 millimeters, for example, and work your way down from there if needed. How can you tell if you need a larger cup?
If the nipple shows any signs of blanching, characterized by the nipple's turning white after feeding occurs, a larger cup is usually recommended. The best way to confirm you have an appropriately sized Supple Cup is by checking to ensure it covers only the nipple and not the areola. Also, the Supple Cup should fit comfortably.
How to Use a Supple Cup for Breastfeeding
Before detailing how to use a Supple Cup, it is important to note that women who have cracked or bleeding nipples are cautioned to avoid using the cups. Aside from that, Supple Cups are fairly intuitive and become second nature after using them just a few times. Nonetheless, here are a few tips to help get you started:
Place the Supple Cup over the nipple, allowing the rim to completely seal to the skin.
Pinch the cup with your fingers to release any air that may have become trapped.
Once all the air has been removed, you can begin either pumping breast milk or breastfeeding your baby.

Breastfeeding

Postpartum Basics