Pregnancy can be a stressful time for any expectant mother. From morning sickness to swollen ankles, and that long wait until you see your little one for the first time. So it's no surprise that our confidence often takes a bit of a dip while we're pregnant. There's plenty of changes going on, after all. But when it comes to bringing a bit more positivity and confidence in your day-to-day life, there are a few things you can do to give yourself a little boost.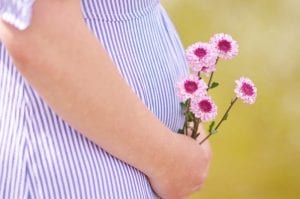 Here are five ways to feel confident when pregnant to get you started:
1. Invest in some beautiful maternity clothing
It's all too easy to think maternity clothes aren't worth the investment. After all, who doesn't have a few oversized tops or roomy dresses in their wardrobe? But investing in something new and unique to celebrate your pregnancy can be an excellent way to feel more confident. Whether it's a cute top, a beautiful dress or even shoes that fit your expanding feet, buying something for yourself can help to bring your confidence back.
2. Go eco with your baby choices
Many of us are worried about the environmental impact babies can have. After all, there's so much waste involved – from nappies to wipes and more. But by taking steps to choose more environmentally conscious companies, you can help regain your confidence surrounding your impact on the environment as a whole. Bonds, for example, is working to divert 100% of their waste from landfill by 2020.
3. Remember that change is a good thing
Often, our confidence can wane when what we see in the mirror isn't quite what we envisioned. But it's important to remember that you're doing a remarkable job – growing your baby – and change is a big part of that process. Change doesn't necessarily mean things are worse and can represent better things for the future. Looking different in your reflection certainly doesn't mean you should be any less confident – you're still you, but slightly different.
4. Try out a mini makeover
Always wanted to cut your hair a certain way, or even try out a few crazy colours in your downtime? Maternity leave might be mostly taken up with preparing for, and caring for, your new arrival. But that doesn't mean there isn't a little time left for a mini makeover. Invest in a trip to the hairdressers, try out some new outfits and do something outside your comfort zone. There's no better way to boost your confidence.
5. Download a baby app on your phone
Often, a lack of confidence in pregnancy can stem from uncertainty. Even though we've read all the baby books and know all we need to, nothing quite prepares you for the loss of confidence and anxiety. But downloading a baby app can help you understand what you're doing right and give you up-to-date information about your little one to keep the wobbles at bay. Knowledge is confidence, so get informed to feel more confident about the whole process.
What are your top ways to improve your confidence during pregnancy and beyond?

Prenatal Health