Documenting your baby's milestones month by month is a fun part of being a parent. You get to show off your creativity and how cute your new bundle of joy is! Sometimes, though, it can be difficult to come up with the perfect idea of how to document your baby's milestones and capture it on camera when your baby is not screaming or crying.
Here are a few different milestone photo ideas and an explanation on how to make props and set up your camera for each one.
1. Baby's Milestone Blanket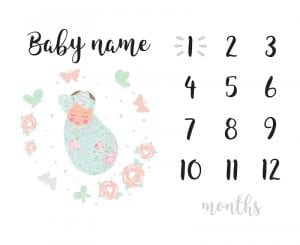 If you are looking for a low-prep way to document your baby's milestones, a pre-made milestone blanket is a great option. You can find pre-made milestone blankets online in a variety of different colors and themes. Most of these blankets come with a spot to lay your baby beside the numbers one through twelve. You can even personalize some blankets with your child's name!
Then, if you have a little girl you could use a cute baby headband to "circle" the month that you are documenting when you take the photo. If you have a baby boy, you could use a bow tie or a toy.
This is an easy setup to photograph as well. Simply lay the blanket and your baby in a safe spot on the floor and hold your camera directly above the baby. You can always crop out anything else that may be in the frame so that your baby is the focus.
2. Coordinate with the Seasons
This strategy of documenting your baby's growth will make for a great photo collage that you can create for your baby's first birthday! You will want to lay your baby safely on the floor or a bed and keep the background you choose consistent each month. Then, gather small items that correspond to the season and place them in the outline of the number of the month that reflects your baby's age.
For example, you could get tiny pumpkins and outline the number one beside your baby if they would be one month old in October. You could do the same with other small items for corresponding months such as eggs, acorns, strawberries, leaves, seashells, or stars.
Simply hold the camera above your baby, snap the picture and you'll have an adorable photo. Don't forget to put all the photos into a collage when your baby turns one!
3. Pizza, Please!
If the conventional ways of documenting your baby's growth seem a little boring to you, you may like this idea. All you will need is to treat yourself to a pizza on the day that you want to photograph your baby. Open the pizza box and place the number of slices that correspond to your baby's age in months (e.g., one slice for one month) on the righthand side of the box and carefully lay your baby on the left side of the pizza box. Talk about an easy setup!
Simply hold the camera directly over your baby (and the pizza) and snap away! Make the photoshoot interesting by getting a different kind of pizza each month. Be sure that all the slices add up to a whole pizza for your baby's first birthday photo.
4. Monthly Blocks
For this photo, you'll want to either purchase or make some farmhouse-themed blocks that indicate how old your baby is. An easy way to do this is to get two smaller blocks and add numbers to them using a calligraphy stencil and then one larger block and stencil the word "months" in a script font.
Simply pick a plush backdrop and lay your baby down next to the blocks. This is a great way to show off a cute outfit each month. Plus, once you make the blocks, you won't have to stress about prepping the photoshoot each month. Simply hold the camera directly above your baby until you see that adorable smile!
5. Use a Furry Friend
If you have a large stuffed animal, it can make a great addition to your baby's milestone photos. Try to pick a decent-sized stuffed animal so you can see your baby's growth as they age. Place your baby in a similar position with the stuffed animal each month and snap away.
If you want to avoid photographing your baby from above, you can prop the stuffed animal against a wall and get a head-on shot.

Baby's First Year

Postpartum Basics