Pregnancy comes with a lot of emotional and physical changes. For some women, conditions they otherwise wouldn't experience arise after conception. One of those conditions includes pregnancy-related anemia. Anemia during pregnancy occurs based on the mother's inability to produce enough iron for herself and her developing fetus.
Your blood creates red blood cells, which carry oxygen to your cell tissues. When you're pregnant, your body naturally produces excess blood to support the development of both you and your baby. If you don't increase your iron intake, your body doesn't produce enough red blood cells.
Mild anemia during pregnancy is normal. However, if left unchecked, severe cases cause complications. By understanding the symptoms, complications and remedies for pregnancy-related anemia, you increase your chances of a healthier pregnancy and delivery.
Pregnancy-Related Anemia Causes and Symptoms
There are three main types of pregnancy anemia. These are based on deficiencies of iron, folate and vitamin B12. Iron is the most common deficiency among the three types. One out of every two pregnant women experience iron deficiency anemia because they don't realize they must double their mineral intake.
Other factors can contribute to the likelihood of developing anemia. For one, women who have two pregnancies within a short period of time are at higher risk. Being pregnant with multiple babies, frequently throwing up from morning sickness and heavy menstrual periods prior to getting pregnant also increases the chances of developing anemia.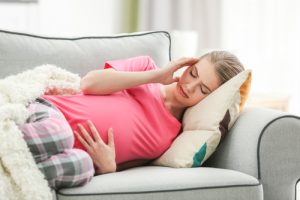 Since it's likely you're already dealing with pregnancy symptoms, it can be hard to notice which ones pertain to anemia during pregnancy. However, some symptoms to look out for include:
Excessive fatigue
Irregularly pale or yellow-colored skin
Abnormal heart palpitations
Dizzy spells
Cold hands or feet
Keep in mind, some of these are common characteristics of pregnancy, so the only way to know for sure is to get a screening. Your healthcare provider will perform a hemoglobin level test. Hemoglobin is the part of your blood cell, responsible for transferring oxygen from your lungs to the rest of your body.
Treating Anemia During Pregnancy
Your treatment options depend on the severity of your symptoms. Your healthcare provider will recommend a solution that increases your iron, folate or vitamin B12 intake, depending on your deficiency. Usually, you can meet your daily nutrient requirements through your diet. For instance, if you have iron-related anemia, you can eat foods like:
Red meat (steak, beef, etc.)
Poultry (chicken, turkey)
Leafy greens (broccoli, kale, arugula)
Iron-enriched bread and rice
For folate deficiency, consume:
Citrus fruits
Berries
Dried legumes
Enriched grains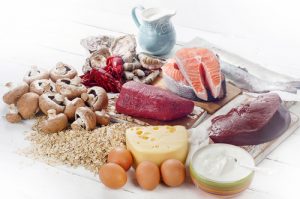 For vitamin B12 deficiency, eat more:
Dairy (milk, cheese, yogurt)
Eggs
Fish (trout, salmon, tuna)
Cereal
If you cannot meet these requirements through your diet, your healthcare provider may recommend supplements. Prenatal vitamins usually contain a combination of these important vitamins and minerals. However, if prenatal medications don't provide enough iron, you may need an additional supplement to raise hemoglobin levels.
Taking iron supplements with orange juice helps with absorption. Be sure to take your supplements at the proper dosage. Iron supplements can cause side effects, including upset stomach, nausea and vomiting.
Molasses is another food to eat to increase iron levels naturally. Molasses contains iron, calcium and copper, which also support bone health. Simply add a tablespoon of molasses to water or as a sugar substitute daily to raise hemoglobin levels.
Bottom Line
In addition to regular symptoms, anemia during pregnancy can take a large toll on an expectant mother. Therefore, it's important to keep iron and vitamin levels up throughout your pregnancy for proper health and development for you and your baby. Otherwise, your baby is at a higher risk of preterm birth and lower birth weight.
Mild anemia symptoms are common in pregnant women, especially since your baby uses a portion of your blood for their development. However, as soon as you see moderate to severe symptoms like dizziness or irregular heart palpitations, speak to your healthcare provider immediately.
Whether you include more vitamin- and mineral-rich foods in your diet or take supplements, be sure to continue iron intake until your anemia goes away. Following these steps gets you closer to delivering a happy and healthy baby.


Concerns and Complications

Pregnancy Basics