You already have one or two children, and you're also expecting another. How can you balance pregnancy health and parenthood?
Here are a few tips.
The Joys of Parenthood
Parenthood offers a lot of joys and frustrations. One of the biggest hurdles is time; you never seem to have enough of it. As a pregnant mother, your time is extremely important. It can be easy to become stressed as a parent, but as most parents know, stress isn't good for either the mother or the baby. To help you balance the role of a parent and a pregnant woman, consider some of these ideas.
Understand What Goes Into Pregnancy Health
You can't expect to be healthy if you don't know what being healthy means. For a pregnant mother, good pregnancy health extends to two sectors—physical health and mental health. Physical health covers what you eat, what you drink, how much sleep you get at night, your overall stress levels and your general well-being. Mental health can include stress and any depression or anxiety that you might feel.
To ensure that you're balancing your health, you need to work on those two aspects. Doing so can be difficult with children already in the house. However, it is possible with some of these tips:
Incorporate Children Into the Pregnancy Journey
If you have a single child already, he or she might be a little apprehensive about the idea of a new baby brother or sister. The child might be used to having all of the attention. One way to make the environment at home excited and eager for the addition of a family member is to include your child into the pregnancy journey. Make your little one a vital part of the decision-making process. If the child is not left out on the sidelines, he or she will feel as part of the family unit as a whole. It will also ensure that the child receives plenty of attention.
For example, perhaps include them in figuring out the nursery. Bring your child with you to the store to help pick out colors for the wall or the kind of crib that the baby should have.
Or when it comes time to visit the doctor, bring your child along. Let him or her be there for the ultrasound and your checkups. Not only will it be educational for your child, but it also allows him or her to share in the excitement of the growing sibling.
Sanitize Everything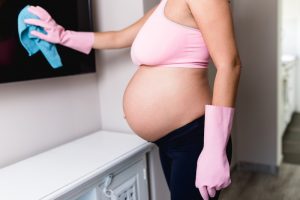 In regards to physical health, you're going to have germs crawling everywhere thanks to your child. Children are notorious for bringing germs into the house. Their immune systems aren't fully developed yet. As a result, if someone is sick at school, you're likely going to become sick at home, too. Pregnancy health is important to think of when it comes time for cold and flu season.
A way to combat this is to sanitize your house often and well. You should also teach your children about when and how to wash their hands. Try to limit the chance of germs' coming into your home, so you don't have to worry about falling ill while pregnant.
In the event that you are ill, rely on your partner or a family member to take care of the child. Your focus should be on yourself when you're ill.
Speak With Other Pregnant Mothers
One of the best ways that you can help improve your mental health is to speak with others who are going through the same thing that you are. Whether they're first-time moms or second- or third-time moms like yourself, you can use them as a resource. Have "Mom Days." where you all get out of the house and do something together. You can use each other for support, ask for advice, and even get a few ideas about babysitters and other resources that you might need later in life.
In the event that you feel as if you need help from a professional, don't feel ashamed about seeking help from a therapist. You're doing everything to help the baby and be a better mom at home. Your health comes first.

Emotional Balance

Everyday You