Popular in the 1970s as interior décor, clothing accessories and plant hangers, macramé has made a popular comeback in the crafting world and nursery macramé projects have become a great way to decorate baby's nursery or children's bedrooms, while creating one-of-a-kind decorations that look adorable in any new space.
While this ancient craft of patterned knots and loops may seem intimidating and complex at first, it's a relatively simple craft to get into that can result in beautifully intricate designs. Below we look into different projects that can be created using only four beginner knots;
Each project can be used as decoration or even used in a baby shower gift basket.
Nursery Macramé Projects
1. Macramé Baby Shower Gift Basket or Planter Cover
Macramé can be a beautiful design on the outside of the basket or planter by using colored ropes, which go well with most baby clothes and toys.
The items required to make this basket are a basket, scissors, 1" dowel rod (or larger), and macramé cord (each piece should be of even length and can vary depending on the size of the basket). This pattern is as simple as lining up a row of Lark's Head Knots on a dowel rod and following those up with rows of Horizontal Clove Stitch knots.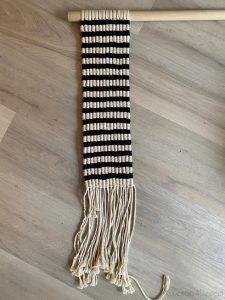 To complete the basket, slide the project off the wooden dowel, cut the loops with scissors, and tie cords from each end together until you have a completed circle that can now slide over any basket or planter for a custom look.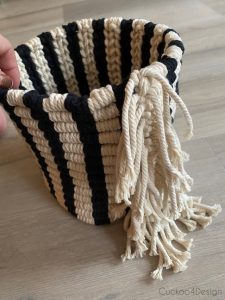 2. Macramé Teething Ring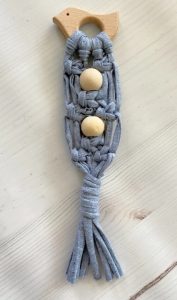 There's no doubt baby will be teething before you know it and thus the need for teething rings will be of importance to have on hand. For a sweet boho feel, these rings are easy to create and use only two knots.
The items required to make these teething rings are; cotton t-shirt yarn, scissors, natural wood teethers or wooden rings, and 25mm wooden beads.
To create these, cut four pieces of yarn, each measuring 50″ in length. Tie them onto the wooden teether or ring using Lark's Head Knots.
*With the first four individual cords, make a Square Knot, then make a second Square Knot using the last four cords. Thread a single wooden bead onto the center two cords; then below the bead, tie a Square Knot using the center four cords. Continue repeating from * until a desired length is reached. To complete the project, tie off the ends with strong knots or a Wrapped Knot and trim excess yarn evenly.
3. Macramé Pacifier Holder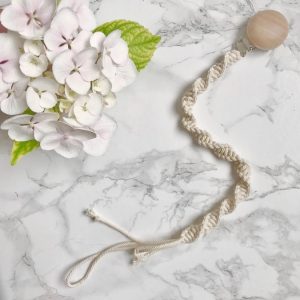 Similar to the teething rings, a pacifier holder can be made using only two knots or a combination of knots for added texture and design. The items required to make this pacifier holder are; cotton t-shirt yarn, scissors, one suspender or mitten clip or wooden clip.
To create this, cut four pieces of yarn each about 30" long and attach them to the loop of the suspender clip using Lark's Head Knot. Continue the rest of your pacifier holder by tying Half Square Knots, this can be done by following only the first three steps of our square knot tutorial above.
Continue with your square knots until the two shortest cords are about 5" in remaining length. Fold one of the middle strings in half (upwards) and then continue with your half square knots including the turned loop end into the work to secure it and secure all cords with knots when complete. This will leave a loop at the bottom of your project that can be tied to a pacifier using a top knot approach.
4. Macramé Baby Mobile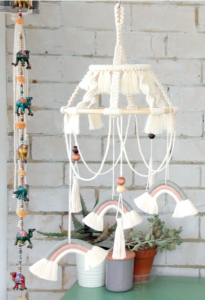 Baby mobiles are a staple in go-to nursery décor, which is why making your own can be a fun and unique way to style baby's crib area. The items required to make a mobile are; cotton multi-colored yarn, cording, or ribbon of your choice, scissors, and a metal ring or wooden embroidery ring.
To create a one of a kind baby mobile, attach a variety of string or ribbon using Lark's Head Knot to your ring, pulling some upward to secure in a knot for hanging and others left hanging downward to decorate with. For the hanging decoration, use a combination of your favorite knots and techniques used above, or simply loop various colored cord and ribbon to the ring using Lark's Head Knot and let them hang and sway in the air freely. You can even add additional ring levels, beads, stuffed toys or knotted designs for additional style.
Additional Macramé Inspiration
Once the beginner knots and concepts are understood, the possibilities for projects is endless. You can begin to create a variety of items that can be used around the house, gifted to other parents or for decoration around baby's room.


DIY Projects

Preparing for Baby