Preterm birth among women is common today. Endometriosis influences the risk of having preterm births among women globally.
Preterm birth refers to a delivery occurring before the 36th week of pregnancy. The fetus is not fully developed at this time, seeing a baby should be born at least in the 40th week. Premature birth is detrimental to an infant's health because it could trigger chronic health conditions. It is vital to prevent preterm birth in order to enhance the health and safety of the unborn child.
Causes of Preterm Birth
One of the key factors that triggers premature birth is a mother carrying multiple pregnancies without spacing. It entails having pregnancies with a gap of fewer than 18 months. Abuse of drugs like tobacco during pregnancy can also trigger preterm birth. Again, mothers with chronic conditions or other infections could have complications during pregnancy, leading to premature births.
There has been a heated debate on whether other conditions in women like endometriosis can cause premature births. Endometriosis is a painful disorder of the uterus where tissues similar to the uterine tissues grow outside the uterus. Researchers are doing their best to clarify the implications of endometriosis on pregnant women, more so by assessing any links with preterm birth.
Connection Between Endometriosis and Preterm Birth
Researchers have evaluated if endometriosis correlates with premature birth through various studies. As suggested by some studies, there's an indirect link between endometriosis and preterm birth. The connection hails from the pathogenesis of endometriosis, including alterations in the uterus's junctional zone, reactive oxygen species, inflammation and progesterone resistance.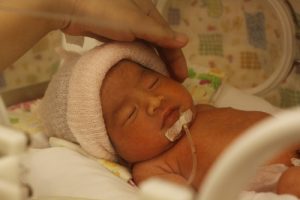 Another factor leading to impulsive, premature birth is increased inflammation caused by the extrauterine endometrial cells observed in women with endometriosis. These wounds increase the peritoneal level of cytokines, macrophages, and prostaglandins, which leads to parturition. Moreover, the systemic inflammation experienced by women having endometriosis can lead to an increased risk of atherosclerosis, causing hypertensive disorders.
Other risks triggered by endometriosis include preeclampsia, placenta previa, gestational diabetes and intrauterine growth retardation. Also, women with endometriosis are susceptible to hypertension. Hypertension is a critical factor triggering the occurrence of premature births among women, expressing a connection between endometriosis and premature deliveries.
Typically, most of the above symptoms connected to endometriosis are primary factors that trigger premature births. Therefore, these risks are responsible for the heightened chances of premature births. Endometriosis is thus not a precondition for premature births, but its signs and symptoms trigger higher risks of these births. Mothers should not be reluctant to seek help from professionals because they could receive advice on lowering the impact of the symptoms. Again, doctors can prescribe some drugs to mothers with endometriosis to help them control their conditions and prevent premature births.
Impact of Endometriosis Based on Type
Endometriosis is of different subtypes, defined based on their signs and severity. The differences between the various endometriosis types call for special attention. It is challenging to assess the duration and strength of the exposure to endometriosis because the severity and activity of the condition are unstable. Also, the endometriosis phenotype is likely to mutate in the follow-up process.
Pregnant women suffering from different types of endometriosis are likely to experience varied impacts. Also, the effect could matter based on how long one has been suffering from endometriosis. In this light, premature birth is less pronounced in women with ovarian endometriosis than in women with deep endometriosis. However, there is inadequate awareness of the possible implications for women who have undergone endometriosis surgeries.
Final Remarks
Several factors may cause preterm births, but endometriosis is not a decisive precondition. However, premature deliveries and endometriosis are indirectly connected, and women who have endometriosis are more likely to encounter premature births. The primary symptoms of endometriosis among women, like inflammation, progesterone resistance, reactive oxygen species and hypertension trigger preterm births. In this light, women with endometriosis are at higher risk of having premature births than women without endometriosis.
Expectant mothers with endometriosis should not be hesitant to visit a doctor during pregnancy to get medical assistance to mitigate or lower the risk for preterm births. Seeking medical help is critical in ensuring that the mother prevents an earlier delivery, enhancing the safety of her infant.

Delivery

Pregnancy Basics