Heterotopic pregnancy (HP) is a rare phenomenon in which at least two pregnancies occur simultaneously at two distinct implantation points. One remains in the uterus, and the other is implanted ectopically. The vast majority of HP cases are discovered during the first trimester of pregnancy.
Its prevalence has risen dramatically in recent years due to assisted reproductive treatments. The majority of individuals who have a heterotopic pregnancy have had infertility or tubal illness in the past.
Symptoms of Heterotopic Pregnancy
A woman who is pregnant heterotopically may or may not have any symptoms. This is particularly alarming since half of these conceptions are only discovered after the fallopian tube ruptures. Some patients experience the following symptoms:
Dizziness
Bloating
Abnormal vaginal bleeding
Fainting
Pain in the side
Abnormal cramping
Vomiting
Pain in the neck, shoulder or rectum
Pelvic pain
Nausea
You are advised to seek immediate medical attention if you experience these symptoms. If you experience heavy bleeding, severe pain and feeling weak and fainting, treat it as a medical emergency.
Diagnosis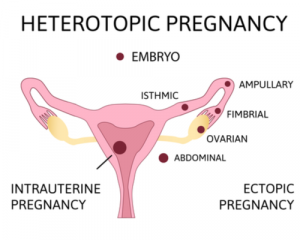 Heterotopic pregnancy (HP) is a life-threatening condition that may be difficult to identify. Even if an intrauterine gestational sac has already been verified and there are no obvious risk factors, it's vital to assess the adnexa thoroughly with ultrasound to rule out a potential ectopic pregnancy.
During a typical ultrasound, the sonographer examines the growing baby in the uterus. They may not think of looking past that point, making it easier to overlook a heterotopic pregnancy. If HP is suspected, ultrasonography typically confirms or rules out the pregnancy by week four or five.
β-hCG serum transducing, in combination with vaginal 2DUS, may be used frequently in prenatal checkups throughout the early phases of pregnancy to help with prompt diagnosis and detection of ectopic and heterotopic pregnancies.
The pregnant woman must be monitored continuously with blood testing before a conclusive diagnosis is reached. If you have had assisted reproductive treatment and are suffering from any of the symptoms described above, you should seek medical help immediately.
Treating Heterotopic Pregnancy
Any fetus outside the uterus is doomed to die, and its existence might result in potentially fatal hemorrhage in the mother if a tissue bursts unexpectedly. As a consequence, these pregnancies will have to be terminated.
It is imperative to establish that this surgical treatment process has a high success rate without terminating the healthy intrauterine pregnancy. Depending on the analysis of a specialist, this surgery may or may not require the removal of the affected fallopian tube.
Although heterotopic pregnancies have a high chance of miscarriage, especially if a rupture occurs, approximately 67% of women may carry the intrauterine baby to term. If you have lost a fetus due to a heterotopic pregnancy, even if the second baby is doing well, it is appropriate to grieve for that baby. Allow yourself to experience your grief and share it with those you can trust.
The presence of fluid inside the pelvis and a comprehensive inspection or reexamination of the adnexa by a professional sonographer might lead clinicians to the correct diagnosis.
High-resolution transvaginal sonography (HRTS) is the most significant diagnostic procedure for intrauterine pregnancy. According to researchers, transvaginal ultrasonography was used to rule out 40% to 70% of HP cases, whereas laparoscopy was required for the other cases.
The treatment aims to keep the intrauterine pregnancy alive and stop the ectopic pregnancy from developing. Either by laparoscopy or laparotomy, surgery is the first-line therapy for HP.
When the diagnosis of HP is timely, the patient will have more treatment options as opposed to a late diagnosis.


Concerns and Complications

Pregnancy Basics