Making crafts for your rainbow baby nursery is a great way to get excited about the baby's much-anticipated arrival. Try some of these DIY ideas to make a subtle homage to your little rainbow.
While rainbows are sometimes just used for decoration, they've become quite symbolic in nursery settings. A take-home baby after one or more losses is often referred to as a rainbow. Putting this symbolism in a nursery often makes parents feel as if they are simultaneously paying respect to the child or children they lost while also celebrating the new baby who is filling the nursery.
Rainbow Name Sign
Name signs are commonly incorporated in nurseries. Parents spend so long choosing the perfect name for their little one, so it's no surprise that you want to show it off. Plus, it's great early exposure to letters and the baby's name as a whole. These decor items are a win-win.
A rainbow name sign is a great way to celebrate your rainbow baby, and there are quite a few ways to make them. If you want to go simple, you can paint the letters of the baby's name in the color sequence of a rainbow. You can also make a rainbow background on the desired surface for the name sign. Some even choose to add things like the sun coming out from behind the clouds surrounding their rainbow for extra emotional symbolism.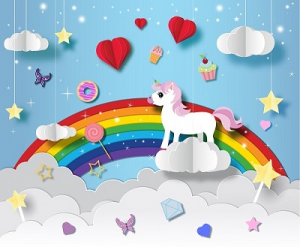 Cloud Wall Hanger
A cloud wall hanger that's raining rainbows is subtle, elegant and simple to make for crafters of all skill levels. Get a thin wooden cutout of a cloud. You want it to be just the outline as opposed to being solid. Paint the wood either white or grey. Collect yarn or ribbon in red, orange, yellow, green, blue and purple. Cut long, even strands of each color in equal numbers. Make thick knots of each color in the proper order along the bottom of the cloud. Hang it high so no little fingers can rip or pull at the fabric.
Framed Poem
A framed poem, song lyric or bible verse can make a meaningful addition to your rainbow baby's nursery decor. If there's some piece of writing that has meant a lot to you and your partner during this journey, finding an elegant way to display these words can be a great way to celebrate and remember all at the same time. Make it a high-quality print with elegant rainbow imagery surrounding the words to ensure it looks professional instead of thrown together. This small and simple touch can add a lot of meaning to the nursery of your long-awaited child.
Cloud Mobile
A cloud mobile is beautiful and entrancing. It can be made in different crafting styles depending on your area of expertise. They can be knit, sewn or crocheted. Simply create a raindrop shape for each color of the rainbow. Then, make a cloud of appropriate size to hold all six of the raindrops. Hang the raindrops from the cloud and watch your little one be entranced by the colors.
There are all kinds of beautiful crafts that you can create for your nursery. Whether you just like the look or want to celebrate your rainbow baby, these four crafts are a great place to get started.


DIY Projects

Preparing for Baby