When dealing with endometriosis and pregnancy, it can be difficult to conceive a child. However, do not lose hope, because it is far from impossible. Please read on for an overview of endometriosis and how it can affect the body, both during the conception phase as well as throughout your pregnancy.
What Is Endometriosis?
Before we can discuss how this condition affects women of all ages, let's first talk about what it is. Endometriosis is a disorder in women where tissue that normally grows as a uterine lining instead grows outside of the uterus altogether.
The uterus is the home of your growing baby, and conditions need to be just right in order for a fetus to be able to develop. During her monthly cycle, a woman's egg is released during ovulation, and it travels down the Fallopian tube into the womb. For a limited window of time, it is ready for fertilization and implantation.
Once an egg is fertilized, it needs a comfortable and reliable home for the next nine months. Each month, the walls of the uterus thicken and develop in order to create this ideal environment, so if the necessary tissue is actually growing outside of the uterus, it can lead to problems.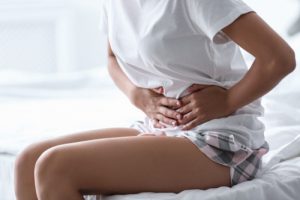 Common symptoms include painful and irregular menstruation and difficulty conceiving a child. Endometriosis and pregnancy aren't mutually exclusive, however. Under the care of your OB/GYN, you can get hormone treatment or explore surgical options.
Surviving Endometriosis and Pregnancy
One of the most difficult parts of navigating endometriosis and pregnancy is not knowing exactly when you ovulate, which is critical to discern when trying to conceive. Because a woman with endometriosis has irregular periods, it is hard to track and monitor her cycles effectively. These days, a good place to start might be downloading an app that tracks ovulation cycles to begin logging your periods.
The pain and discomfort associated with endometriosis is also another factor. The constant toll on the body and spirit can be incredibly disheartening month after month. It should go without saying that a woman dealing with endometriosis and pregnancy requires a large and stable support system.
The endometrium, which is the tissue that is growing abnormally, can grow on your ovaries, bowels and the tissues lining your pelvis. This is not ideal for a healthy pregnancy, and you will likely require some intervention if you would like to have a child. If left untreated, endometriosis can lead to limited or even full infertility.
Final Thoughts
Without a doubt, the worst thing you can do while trying to conceive is overly stress about it. If you are dealing with endometriosis and pregnancy, talk to your doctor about it as soon as possible. They will be able to shed some more light on your condition and guide you to the next steps you need to take in order to have a healthy pregnancy. Whether it's a heating pad or meds to manage the pain, hormone treatment to start addressing the endometrium or a surgical approach, do your best to locate the best medical professional you can find for your journey.


Concerns and Complications

Pregnancy Basics