Research shows that women who have had pregnancies lasting longer than six months and who breastfeed their children are at a lower risk of experiencing premature menopause.
The average age for menopause in most women is 51 years. Depending on their genetics and hormones, most women get menopause between 40 and 58 years old. Studies have shown, however, that women who have had pregnancies that went beyond six months and those who have nursed their little ones are less likely to experience early menopause. Women who have breastfed their babies exclusively for up to a year were associated with the lowest risk.
What Is the Link between Breastfeeding and Delayed Menopause?
In research conducted on over 108,000 women between ages 25 and 40, it was discovered that those who had at least one full-term pregnancy or one that lasted up to six months were at a lower risk of experiencing early menopause. About half of the women fell into this category. Additionally, nearly half of the women had exclusively breastfed their babies for at least one month. This group had a much lower risk of experiencing early menopause.
Follow-up on the research, which lasted for 25 years, revealed that women who had one pregnancy were less likely to experience early menopause by 13%. Subsequent pregnancies lowered this risk even further. Breastfeeding was a significant contributing factor to this percentage as women who had borne children but not breastfed them were only at 8% lower risk of menopause before age 45.
What is Menopause?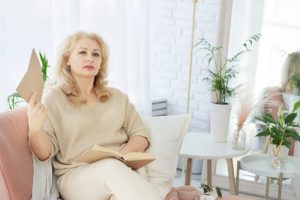 Menopause is a hormonal transition that most women experience between ages 45 and 55 where they stop menstruating. A menopause diagnosis is usually made after a woman fails to experience menstruation for 12 months in a row. While this transition may be smooth and barely noticeable for some women, others may experience some symptoms. Symptoms of menopause include insomnia, vaginal dryness, joint pain, mood swings, hot flashes, depression, pain during sex and irritability. Women experiencing adverse symptoms are encouraged to see a doctor for treatment.
The menopausal transition is nothing to worry about. It is a normal part of aging that a woman experiences at a certain point in life. Most women feel relief after the transition. Painful cramps, periods and getting pregnant become worries of the past. During this transition, the body starts to vary its production of progesterone and estrogen. Due to this change, the bones of a woman may become less dense, predisposing her to fractures. Additionally, the body starts to have a different energy uptake, and fat cells begin to change. Women are, therefore, more likely to gain weight during this period.
Apart from past pregnancies and links to breastfeeding and delayed menopause, other factors contribute to the age at which you are likely to experience menopause. The use of oral contraceptives, physical activity and health-related behaviors such as drinking or smoking are some of these factors.
Early Menopause
A woman is said to have experienced early menopause if she reaches natural menopause before the age of 45. It is often caused by certain factors such as premature ovarian failure, damage to the ovaries due to cancer treatments such as radiotherapy and chemotherapy, and physical factors such as the body mass index. Like any other woman experiencing menopause, women experiencing premature menopause are likely to experience symptoms such as decreased sex drive, mood swings and vaginal dryness.
Apart from the causes mentioned above, a woman may experience early menopause simply because of her genetics. Though pregnancies and breastfeeding may not contribute much to lowering the risk of early menopause if it was health-related, there is a significant link between breastfeeding and delayed menopause in the absence of such factors. Compared to women who haven't had any full-term pregnancies, women who have given birth are at a lower risk of experiencing early menopause.
Women who take part in exclusive breastfeeding are also at a lower risk compared to their counterparts who do not breastfeed at all, or those who complement breast milk with cow milk or formula. Breastfeeding for one to six months lowered the risk by 5%, while women who breastfed their child for up to a year had up to 28% lower risk. The reduced risk factor also increases with a higher number of pregnancies that lasted up to six months.
Various factors could be the link between breastfeeding and delayed menopause. These include the reduced secretion of LH (Luteinizing hormone) and FSH (Follicle-stimulating hormone), and the slowed rate of disappearing ovarian follicles while breastfeeding. Whichever the case, it is clear that breastfeeding has a significant impact on the age at which you experience menopause. If you have been considering breastfeeding your infant, you are on the right track.

Breastfeeding