If you're having trouble getting pregnant, endometriosis may be a suspected cause. Twenty to forty percent of women who struggle with becoming pregnant have endometriosis. The tissue damage, scarring and inflammation can impair the proper functioning of the ovaries, fallopian tubes and uterus.
If you have endometriosis and are currently trying to get pregnant, it's important to know that this does not necessarily mean you are infertile. There may be some difficulties during pregnancy and with becoming pregnant, but there are also many options for treatment.
Endometriosis and Pregnancy
Endometriosis is a condition where the tissue that's supposed to be unique to your uterus begins to grow in other areas of the body. The uterine lining that prepares the uterus to potentially become pregnant each month begins to appear in areas such as the abdomen and pelvis but may appear anywhere in the body.
Scar tissue can develop and bring about pain due to inflammation caused by the displaced uterine cells. Many women struggling with endometriosis experience painful periods, abdominal pain or pain during sex. Diagnosing endometriosis can be difficult, as a doctor may need to acquire a sample of the tissue through laparoscopy. Alternatively, endometriosis may be determined through an MRI, ultrasound, or CAT scan.
Endometriosis and Fertility
One common complaint among those with endometriosis is trouble getting pregnant. Endometriosis is currently a leading cause of infertility, but this does not make infertility an absolute. Many women get pregnant with natural methods despite a current diagnosis of endometriosis.
Endometriosis is known to decrease the number of eggs produced by the ovaries and inhibit the pathway through the fallopian tubes. In this case, scar tissue can be removed through surgery and a pathway, allowing conception and pregnancy to occur.
Delivery and Labor With Endometriosis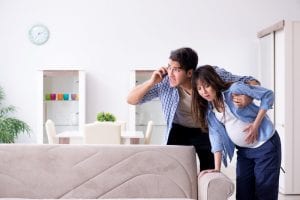 Although there may be some complications due to endometriosis, many women go on to have normal pregnancies. Some even claim to experience less pain than before becoming pregnant, possibly due to the shifting of hormones.
Several studies claim that endometriosis may increase the likelihood of certain conditions during pregnancy. This includes preeclampsia, placental complications, and an increased risk of preterm birth. Studies are still being performed to understand endometriosis and its effect on pregnancy, but there is a call to increase careful supervision of pregnant mothers with endometriosis to prevent these problems.
Having endometriosis may also increase the odds of having to have a cesarean section due to these complications. Due to scar tissue and possible misshapen fallopian tubes, abnormalities that prevent natural delivery may simply be more likely with endometriosis. Despite this, many women go on to have natural vaginal deliveries.
Treatment of Endometriosis
Although there is presently no cure for endometriosis, many options are available for treating and managing symptoms. Doctors often prescribe pain medication and anti-inflammatory drugs. Hormonal therapy can be effective, as contraceptives and progesterone drugs can alter the development of the rogue uterine tissue.
Surgery is also a common method to remove the abnormal growths of endometriosis. This is typically done through minimally invasive surgical methods. Some women may even choose to have a hysterectomy to treat endometriosis if they do not plan to have any more children.
Natural Methods
Alternatively, there are many natural methods for managing the symptoms and treating the often-elusive underlying cause. Some natural remedies are based on simply improving your overall health. Others work directly to cure the hormonal imbalance and improve an immune function that can fight the disease. These alternative treatments may be more desirable for those who wish to avoid surgery and long-term use of pain medication.
Many natural treatments have cumulative effects and may take time to make a noticeable difference. Some of these include following an anti-inflammatory diet. Foods such as dairy, wheat, grains, refined sugars, and alcohol are known to increase inflammation in the body and reducing their intake can help reduce painful symptoms.
Melatonin can be taken to dispose of excessive amounts of estrogen in the body, which can aggravate the symptoms of endometriosis. Pine Bark has also been observed in recent studies to heal endometriosis and reduce pain. Though there are many options available, always consult your doctor when seeking either natural or conventional medical treatment.


Concerns and Complications

Pregnancy Basics