If you have been following health news, hospital records from certain Chinese hospitals have linked high maternal triglycerides and preterm birth. To further contextualize this statement, women with higher than usual triglyceride levels, especially early in their pregnancies, are twice as likely to experience premature births compared to women with normal triglyceride levels. It is worth noting, however, that this data is based on early pregnancy BMI (body mass index).
What Studies are Finding
Studies have shown that abnormal lipid levels during pregnancy can also result in preeclampsia, a condition characterized by high blood pressure and protein in the urine during pregnancy or after childbirth. Also, abnormal lipids have been linked to births of children who are large for gestational age.
These findings have prompted much of China's medical community to conclude that high TG (triglyceride) levels can lead to exceedingly complicated childbirths.
Maternal Triacylglycerol Levels and Premature Births
The potential nexus between high TG levels and preterm birth was established based on a study conducted by Xian-Hua Lin, Ph.D. and colleagues at the International Peace Maternity and Child Health Hospital based in Shanghai. The study's participants included more than 40,000 pregnant women between 2013 and 2016. The median age of the participants was 32 and they all underwent fasting prior to their lipid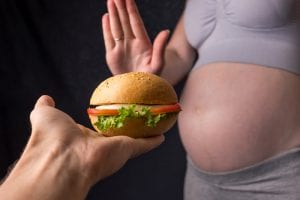 screenings. The study, which included logistic regression analysis, was used to determine the probability of preterm births relative to triacylglycerol levels and the participants' BMI. Triacylglycerol levels were ranked as low, normal and high and were all established in the first few weeks of each pregnancy. Along with TG levels, each participant's body weight was also factored into the study, and the following reflects the results:
81.72 percent were height-weight proportionate
7.61 percent were underweight
10.67 percent were overweight 
Triacylglycerol Levels Among Study Participants
As far as TG levels are concerned, 12.71 percent of normal-weight women had low TG levels, while 79.59 percent had normal triglycerides and 7.71 percent were considered to have high triglycerides. With respect to overweight and obese women, 6.8 percent had low TG levels, 78.02 percent had TG levels that were normal, and 15.17 percent had higher-than-normal TG levels.
Study Results
Before detailing the results of the study, it is important to note that it involved more than 2,400 preterm births. The risk for premature births was measured based on the participating expecting mothers' TG levels. The study revealed that those with high TG levels were more likely to experience preterm births than those with low or normal TG levels. Researchers also concluded that each per-unit increase in a woman's maternal TG level further increased the likelihood of preterm delivery, especially among women with already high TG levels.
To sum up, there is clear evidence to support the link between high maternal TG levels and the risk for preterm births. As such, women who are pregnant or plan to become pregnant should work with their general physician or obstetrician to ensure their TG levels are within a healthy range.


Concerns and Complications

Pregnancy Basics