Pregnancy can be a beautiful event and one that many women are enthusiastic about. People who have been pregnant know that it can also be a long, complex process that is often fraught with the unexpected. One potential complication during pregnancy is cytomegalovirus (CMV) infection. If you are pregnant and have CMV, your baby runs the risk of becoming infected.
Here, we will discuss this potentially dangerous virus and its symptoms and risks for mothers and babies.
What is CMV?
Cytomegaloviruses are a genus of herpesvirus that are typically mild viral infections, causing few to no symptoms. When they occur, they primarily affect the nerves in the eyes and skin, however they can also affect other organs such as the liver and heart. Human cytomegalovirus (CMV) is the most researched virus in this genus.
CMV affects many people worldwide, and most people have been exposed to the virus at some point. Most infections remain solely in memory, but occasionally a person may have recurring symptoms.
How is Cytomegalovirus Contracted?
CMV is transmitted through direct contact with a person who has the virus, which can happen in a few different ways. The most common way to contract cytomegalovirus is through saliva and bodily fluids. People are most likely to contract this virus by direct contact with another infected person or by touching contaminated objects, such as needles, towels or other objects that have been in contact with the virus. The virus can also be passed through contaminated blood transfusions, breast milk and utensils.
Pregnant women can transmit the virus to their babies through the placenta, where the mother's infected blood can mix with the unborn baby's blood. When CMV is spread in this way, the undeveloped immune system of a fetus or newborn puts them at risk for serious health problems.
Symptoms of Cytomegalovirus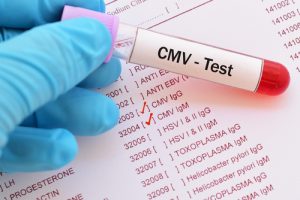 Symptoms of cytomegalovirus can be mild or severe and duration of symptoms can vary. The symptoms depend on the amount of virus present in the body and how intensely it affects a person's body.
Some common symptoms in adults include stomach pain, vomiting, aching muscles, tiredness, skin rash, sore throat, swollen glands, swollen liver or spleen, fever and diarrhea. Some common symptoms in children include fever, white spots in the mouth and throat, swollen glands, unusual facial expressions and vomiting. The CMV incubation period is about three to 12 weeks.
Risks of CMV in Pregnant Women
If CMV is left untreated, it can lead to more severe problems such as miscarriage, premature birth and hearing loss. If a woman is infected during her pregnancy, she may be at risk of having a child with congenital CMV infection. Congenital infection is when an infant is born with the virus, a situation which can lead to health problems for the child.
Newborns with CMV can have issues with feeding, as well as motor issues, making it hard for them to learn to walk and talk later in life. Hearing loss may be detected soon after birth or later in the child's life. The virus can lead to other brain and central nervous system issues, which can result in cognitive difficulties.
How is CMV Treated?
Proper medical treatment is necessary to protect the unborn child if a pregnant woman is infected with CMV. Treatment can consist of either medication or antiviral treatment. There are a couple of different antiviral drugs in rotation for CMV. The current medication that is often used for the treatment of CMV is Valacyclovir.
Aside from Valacyclovir, many other options can protect against this infection and treat symptoms if they do arise. However, there are certain risks associated with each treatment option. Talk to your doctor about the risks and benefits of each medication and your treatment plan.
How to Prevent CMV
To reduce your chances of contracting CMV, avoid direct contact with people who have the virus. Wear gloves if you are in contact with bodily fluids and foods that might pose an infection risk. It is also important to be cautious when undergoing medical procedures and to avoid sharing eating utensils, toothbrushes or razors. Talk to your healthcare provider about other ways in which you can protect yourself. They can offer some tips for avoiding the risks associated with this infection.
While the infection can be mild in most people, it can be severe during pregnancy and for unborn infants. Congenital CMV infections are the leading cause of hearing loss in children. They are also one of the primary causes of mental difficulties in children. Treatment is available if needed. If you are or may become pregnant, remember to take precautions and ask your doctor about treatment options if you are concerned that you may have come into contact with or be infected with CMV.


Concerns and Complications

Pregnancy Basics