There's no doubt about it, the internet is full of a lot of conflicting information about what's safe during pregnancy and what's not. Among these conflicting topics of discussion is in regard to getting a pap smear during pregnancy. Should you wait until after you give birth, or can you go ahead and get one done while you're pregnant? Here's everything you want and need to know on the subject.
Pap Screening During Pregnancy
While most women have regular pap tests prior to pregnancy, a pap smear that is done during pregnancy is ordered for the same reason that it is done when a woman is not pregnant; to screen for any potential abnormalities of the cervix or vagina. This type of test is safe to have during pregnancy and is typically done routinely during the second trimester of pregnancy, but it can be done earlier if there are concerns regarding the health of the cervix or vagina.
It is common that a regular OB-GYN will recommend a pap smear at your first prenatal visit if you have not had one in the past year. Despite being pregnant, the procedure is done the same way during pregnancy as a regular pap smear. The main difference is that the sample is taken from the cervix, which is the opening to the uterus.
Understanding the Basics of a Pap Smear
For those unfamiliar with the procedure, a pap smear is a short test performed by an OB, GYN or PA. During this procedure the healthcare provider uses a speculum to open the vagina and gently inserts a swab into the cervix. The swab will collect cells from the surface of the cervix, which will then be sent to a laboratory for testing. In most cases, a pap smear during pregnancy is quick and easy, and should not cause any discomfort. However, if you have any questions or concerns prior to the exam, ask your healthcare provider before the procedure begins.
Follow Ups for an Abnormal Result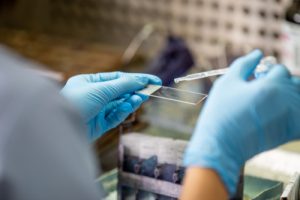 While the main purpose of a pap smear is to screen for cervical and ovarian cancers, an abnormal result can cause concern, but it does not necessarily mean that cancerous cells are present. In many cases, an abnormal result indicates that the cells on your cervix have been changed by something other than cancer, such as the human papilloma (HPV) virus, sexually transmitted infection (STI) or bacterial infection, however other contributing factors may be endometriosis, and pelvic inflammatory disease.
If an abnormal result comes back, your doctor will likely recommend further testing to conclude and rule out whether the cause is due to cancerous cells or not and to determine the exact cause of the abnormal test.
These follow up tests can sometimes include a repeat pap smear, however often times an abnormal result may require a follow-up test called a colposcopy. During this procedure, your OB-GYN will use a magnifying instrument to examine your cervix more closely. If your medical provider is uncertain or suspects that abnormal cells may be precancerous they may recommend a procedure called a cervical biopsy, in which a small tissue sample is taken from your cervix to be further examined under a microscope.
These procedures can help to determine the cause of the abnormality and rule out serious conditions. In most cases, no treatment is required. However, if the cause is found to be cervical cancer, treatment may be necessary.
While an abnormal pap smear can be unsettling, it is important to remember that, in most cases, it is not indicative of cancer. In addition, it is important to know that an abnormal pap smear does not usually pose any immediate risks to you or your baby. But if left untreated, the underlying cause may lead to more severe issues or even develop into cervical cancer, thus it is important to follow up with your OB-GYN if your results are abnormal and follow their recommendations for follow up testing. Most women, pregnant and not, who have an abnormal result live healthy lives with proper follow-up and treatment when necessary.
Benefits of Having a Pap Test During Pregnancy
While most people associate pap smears with cervical cancer screenings, this simple test can also be an essential tool for monitoring the health of pregnant women. A sample of cells from the cervix can be examined for signs of infection, inflammation, or abnormal cell growth.
These abnormalities can help medical professionals be aware of early warning signs of problems like preterm labor or gestational diabetes for pregnant women. The test may also help to detect the presence of HPV during pregnancy, a virus that can cause cervical cancer down the road. It should be noted that it is rare for infected women to pass this virus on to their newborn children, however finding these problems early helps to ensure that pregnant women and their infants stay healthy throughout pregnancy and beyond.
Understanding Risks of Pap Smear Testing During Pregnancy
While the test is generally considered a safe procedure, there are some risks that pregnant women should be aware of. First, the cervix is more sensitive during pregnancy, making the procedure more uncomfortable for some women. Additionally, there is a small risk of infection or bleeding after the procedure. In very rare cases, the placenta may be damaged, which can lead to complications such as preterm labor. Nevertheless, most women who have this test done during pregnancy experience no problems and minimal discomfort. Given the importance of early detection in treating cervical cancer, most experts believe that the benefits far outweigh the risks.
Although a pap smear is unnecessary for every pregnancy, it can be a valuable tool in detecting early signs of cervical cancer.
If you're pregnant and considering scheduling your routine exam, talk to your healthcare provider about the potential risks and benefits and scheduling concerns for your stage of pregnancy. With their help, you can make an informed decision about whether the procedure is right for you and when to have it performed.

Prenatal Health