Being pregnant is one of the most exciting times in a woman's life. Your body is going through many changes while your baby develops. If you are pregnant during the summer, it's a challenge as you battle the heat and your belly grows bigger. Here is the ultimate summertime pregnancy survival guide.
Expect More Swelling
Pregnancy causes more swelling as it is, but during the hot days of summer, it can be even worse. It's extremely common to experience swelling of the feet and fingers, in particular. While you should expect this to happen, you can combat it by doing a few things. First and foremost, reducing your sodium intake during pregnancy is wise in general and can limit swelling. Remove any rings so that when your fingers start to swell, you won't have a problem.
Only wear shoes with good arch support to protect your feet. You may even want to get a pair that's wider for even better support if your feet swell. Finally, you should elevate your feet any chance you get. It's not only a good way to keep cool, but it can also help you to avoid or minimize swelling.
Keep Cool and Stay Hydrated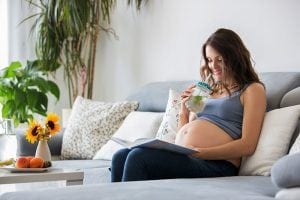 Stick to wearing lighter-colored and flowy clothing that allow you to stay cooler when you're outdoors. You may also want to get any outdoors tasks done earlier in the morning or later in the evening when the temperatures are cooler. Stay indoors with a fan or air conditioner running when it reaches 90 F or higher.
Keeping hydrated is always important, but it is even more essential when you're pregnant. You should drink at least 10 cups per day. In the summer, you need even more due to the heat when you're sweltering and should aim for an additional eight ounces for each hour you're outdoors.
Carry a spray bottle filled with cold water when you're going to be outdoors. A simple spritz or five to your face or arms can keep you feeling refreshed and cool.
Protect Yourself
When you do go outside, always use sunscreen on exposed skin. Opt for the ones that have an SPF of 15 or higher and apply it 20 minutes before you head outdoors and reapply every two hours. You should also make sure to protect your eyes by wearing sunglasses. Of course, you should also stay in the shade as much as possible.
Go for a Dip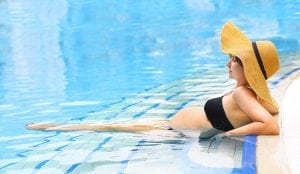 Going to the beach or pool and taking a dip in the cool water can certainly help to keep you cool when you're pregnant. Grab your favorite maternity bathing suit and go for a splash. Even if you don't have access to an actual pool, you can run the sprinklers in your yard to cool off or get a plastic kiddy pool. Of course, you should apply sunscreen before hitting the water.
Go Someplace Cool
If you feel like you need to get out of the house, go someplace cool while killing a few hours. Great options include the movies and the mall. You can enjoy a great flick while sitting in the air condition or do some baby-related shopping while keeping cool, which helps you to kill two birds with one stone.
These are all great ways to beat the summertime heat when you're expecting. Both you and baby will be happier for it.

Everyday You

Prenatal Health