It is easy enough to get pregnant, but understanding when one is actually in labor is a bit difficult. The following are some tips, tricks and advice to help through the final trimester of pregnancy.
First-Time Mothers Are Often Insecure
The confusion persists with the onset of "false alarm" Braxton-Hicks contractions, which can start as early as the fourth month, and although they're normal, they can cause most mothers-to-be serious concerns.
Then there is the somewhat mesmerizing, highly-vascularized cervix that likes to do what is called a "bloody show," which is leakage of premature blood and mucus, leading most women to race out and head to the hospital. This can happen quite close to birth, yet it is something that does not mean you should race to the hospital, although it does warrant evaluation.
True Labor Signs
Contractions must be regular and frequent. This means that if contractions are happening every two minutes, for at least one hour, you are in labor, and it is time to go to the hospital. If alone, use an app, or if in the company of others, have someone else keep track.
The Big Gush
The time comes when a woman feels as if she has to go to the bathroom, yet the pressure to go to the bathroom was not caused by urinary bladder operations, but by a rupture of membranes. This will be a big gush of fluid that feels a bit "slimy," which is followed by a trickle, and it is at this time that a woman should be clear that her water has indeed broken and that it is time to go to the hospital.
Pre-Eclampsia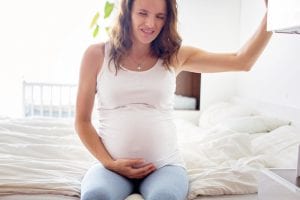 High blood pressure can happen during pregnancy, yet there are some leading indicators that what was once just considered hypertension has now become pre-eclampsia. The common misunderstanding about pre-eclampsia is that it will occur close to delivery. This is almost never the case, and if you are pre-eclamptic, this will be established by your medical team well before your due date.
Pre-eclampsia is normally diagnosed before 20 weeks of gestation. Most of the time, bed rest and perhaps early hospitalization will be necessary, while some patients can manage it at home. Though there are differences in patients' circumstances, management of the condition should all lead to creating a safe, healthy environment for the expecting mother. Pre-eclampsia can turn into eclampsia quite quickly, so all instructions from doctors need to be followed judiciously, without fail.
Fewer-Than-Normal Fetal Movements
If there are fewer than 10 kicks per hour between 32 and 36 weeks, this should be a consideration, although babies have their own kicking patterns. The rule-of-thumb is 10 kicks within two hours, but it can vary. If there are fewer than 20 kicks over the course of four hours, when your baby is normally active, a call to the obstetric gynecologist should absolutely be your next step.
Throwing Up or Diarrhea
Concerns about dehydration during pregnancy carry with it a lot of woes, and not the least of which is throwing up and diarrhea. If you are having trouble with nausea beyond the first trimester, it should be evaluated by your doctor. Often, having small meals, eating something with carbohydrates before bed and having a few crackers upon rising should help with this. It is important, however, that dehydration, a byproduct of vomiting, be treated simply by consuming fluids. Sodium is the most abundant electrolyte in our bodies, so if not hypertensive, a little salt in eight ounces of water should help to retain fluid and ameliorate dehydration. For those who are hypertensive, consuming sodium-free liquids is the way to go.
Feeling Off and Like Something Is Wrong
This article has provided some points and guidelines when it comes to gauging your progress during pregnancy. That said, if you are feeling okay at home, by all means, you should stay there. If, however, you are just not feeling right, and you want to go to the hospital, then that is exactly what you should do. You have chosen to bring a life into this world, and it is absolutely imperative you trust yourself and acknowledge how you feel.
What is the worst that can happen? You arrive at the hospital, they evaluate you, they assuage your concerns and you go home. It is much, much better to be safe than sorry, so always be your own advocate.

Delivery

Pregnancy Basics