According to Medical News Today, an online resource aimed at physicians and the general public, the nutrients that a woman consumes while pregnant can minimize the chances of her children's developing Alzheimer's disease later in life. If you're not familiar with the disease, Alzheimer's is a neurological disorder characterized by dying brain cells, which contributes to cognitive decline and memory loss.
Why this is Important
It is important to note that Alzheimer's is by far the most common form of dementia and makes up more than 60 percent of cases diagnosed in the U.S. To help put this all into context, the National Institute of Health reports that as of 2013, nearly five million people were diagnosed with Alzheimer's disease. Based on current data, the number of individuals diagnosed with the disease will likely double by the year 2050.
Can a Mother's Diet Protect Her Offspring From Alzheimer's?
One of the best things that an expectant mother can do to safeguard her unborn child from the damaging effects of Alzheimer's is consuming foods rich in choline. These foods include meat, fish, eggs, and dairy products. Studies conducted by Arizona State University used female mice that were genetically predisposed to Alzheimer's and fed them a diet consisting of foods containing choline, and they found that the mice were less likely to give birth to offspring with the disease.
Beyond that, the study revealed that the offspring of these female mice not only experienced fewer brain changes but also had markedly improved memory skills compared to those of offspring born to mice whose diet was not supplemented with choline. All in all, researchers concluded that maternal choline supplementation had cross-generational benefits in that offspring born to a mother who received choline supplementation also gave birth to offspring that was less likely to be impacted by Alzheimer's disease.
Choline and Achieving Developmental Milestones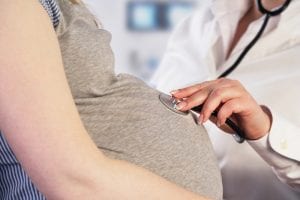 Multiple studies have shown that choline is an essential nutrient needed for brain and nervous system function, as well as early brain development and cell structure preservation. Although the human body is capable of producing some choline, the amount is not enough to completely support the body's biological systems.
As such, additional choline must come from the foods we consume. Along with being found in meat, fish, eggs and dairy, choline also occurs naturally in cruciferous vegetables, seeds, grains, soybeans and whole grains. These choline sources, according to Dr. Ramon Velazquez, lead author in a study of choline deficits at the Bio-design Institute at Arizona State University, ensure that women who are pregnant can give birth to babies capable of meeting developmental milestones like walking and babbling, for example.
How Choline Affects the Brain
The study conducted by Arizona State University shows that the probability of developing dementia and particularly Alzheimer's disease, more than doubles when there is a high amount of homocysteine (amino acids) in the brain. To further put this into context, a buildup of these amino acids can cause brain tissue and beta-amyloid plaques to deteriorate. Choline has been shown to be effective in slowing this deterioration as it works to convert homocysteine into methionine, which is an essential amino acid that plays a critical role in creating cartilage, preventing hair loss, and strengthening nails.
It is also worth noting that choline reduces microglial cell activity, which can become hyperactive in those who have developed Alzheimer's disease. It is also useful in clearing up waste material in the brain. In reaching these conclusions, researchers at Arizona State University concluded that choline has a significant impact on the brain's hippocampal tissue, which is the region of the brain responsible for creating and storing memories. Additionally, in the research involving choline supplementation, researchers revealed that choline-supplemented mice gave birth to offspring that had over 27 changed gene expressions, which helped to lower their chances of experiencing brain-cell death.
Overall
All in all, there is significant evidence that proves choline can minimize the chances that newborns will develop Alzheimer's disease or another form of dementia if expectant mothers consume foods containing the compound while they are pregnant.

Diet

Prenatal Health