Pregnancy is an incredible journey that can bring amazing experiences and joy to a woman's life, but there's no denying that it can also bring plenty of discomforts. Even after giving birth, your body will undergo significant changes, most of these changes are good and necessary for you to care for your baby and recover from pregnancy. During this period of healing and rebuilding, your body will begin to adapt to your baby's new role in your life.
While you go through the transitions of postpartum recovery, it is vital that you take good care of yourself and recognize the importance of strengthening your body throughout this time. For example, it's a good idea to schedule a postpartum checkup with a doctor and discuss proper diet and nutrition adjustments, as well as physical limitations and common changes that can occur during this phase.
For many women the postpartum phase can feel like a breeze compared to pregnancy, and for others, this phase comes with its own set of new symptoms and changes. While postpartum depression is the most notable concern, additional symptoms may arise including night sweats, fatigue, constipation, and one symptom not often discussed is postpartum swelling.
What Is Postpartum Swelling?
Postpartum swelling is simply the appearance of water on the body due to a change in the amount of water you retain. This is a normal stage that occurs after you have given birth, but it can be very uncomfortable if it occurs when you don't have the energy to deal with the extra weight. It's been reported that around 25 percent of women experience some degree of swelling after their baby arrives.
Causes of Postpartum Swelling
After delivery, a number of women will experience swelling or puffiness in the skin, especially in the legs, feet, ankles, arms and face. The cause of this is multifaceted.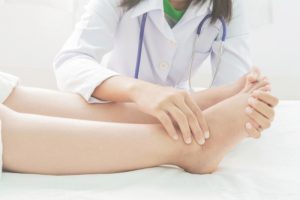 The body may seem to loose significant water weight following delivery, for example, when the body naturally begins to release water immediately after giving birth, or delivery that may result in a loss of significant blood, however, despite this fluid loss, all the extra fluid that was accumulated during pregnancy, and that was administered via IV during labor and delivery, won't disappear overnight. Thus, postpartum swelling can be experienced.
During pregnancy the body retains extra water to care for a growing baby, and during delivery additional fluid via IV is typically administered and stored by the body. In the postpartum phase, it is possible that many women end up carrying more than their baby postpartum, but also carry pounds of these leftover fluids.
In addition to physical intake of water and fluids, pushing during childbirth can force fluid to move to the extremities and fluctuations in hormones, such as pregnancy's increased progesterone levels and breastfeeding's altered progesterone and estrogen levels, can result in extra water retention.
What Can You Do To Treat Postpartum Swelling
While time is a major factor when it comes to recovery, there are some steps you can take to help the process along and rid yourself of swelling during postpartum.
Firstly, as counterproductive as it may seem, staying hydrated and drinking lots of water can help the kidneys flush extra waste and fluids and prevent dehydrations, which causes the body to store water.
While physical activity may be difficult or you may be limited, start moving around or lightly working out as soon as a doctor clears you to do so. This will help prevent fluids and blood from pooling in the lower extremities and will help your system flush fluids out. Once approved by a doctor, begin walking around the house or neighborhood, and when ready, add in some light yoga stretches, swimming or simply weight (or baby) lifting. When ready, start doing light weight-bearing exercises such as squats or lunges.
Ensure that your diet is rich in high-quality protein and essential postpartum nutrients necessary for healing. In addition, look to cut down on salt intake and limit your intake of caffeine as these can increase fluid retention.
Additional practices used to alleviate swelling during pregnancy, such as elevating the legs, moving the ankles, sleeping on your left side, and even wearing compression socks, can all be helpful with relieving postpartum swelling and discomfort.
While postpartum swelling can be bothersome, the good news is that the accumulated fluids will gradually decrease over the first week or two after delivery.
If swelling continues or becomes worse, or additional symptoms arise such as sudden swelling onset, pain or irritation along with swelling, uneven swelling of one extremity, or you experience blurred vision, headaches, difficulty breathing or increase in pain, bleeding or vaginal discharge, this may be an indication of an underlying condition that should be addressed with your doctor.
The above exceptions aside, swelling should be down relatively quick and you'll be able to enjoy parenting life with your newborn, without the swelling discomfort, soon enough.

Postpartum Basics