Valentine's Day is the time for couples and lovers. Millions of people all over the world enjoy this special holiday. Pregnant ladies, you can also enjoy Valentine's. Even though you're expecting a child, that doesn't mean you can't enjoy eating scrumptious treats or wearing sexy maternity lingerie.
The following Valentine's Day treats and lingerie ideas will help any pregnant lady to really enjoy this special day for lovers.
Valentine's Day Mocktails
Valentine's Day is a great time for soon-to-be moms to enjoy a mocktail. What is a mocktail? Well, it's a cocktail without the alcohol. It mocks (imitates) the real thing but it doesn't have the actual spirit included in the mixture. We all know that pregnant ladies shouldn't have alcohol.
On Valentine's Day, many women love to eat strawberries. Strawberry mocktails that women may enjoy include strawberry mojitos, strawberry daquiris and Love Potion Number 9. Love Potion Number 9 is a sweet drink that has raspberries, raspberry ice cream, rose lemonade and sparkling raspberry soda. You can substitute the raspberries with strawberries and enjoy any of these nonalcoholic drinks with some delicious chocolate.
Valentine's Day Treats
Valentine's Day wouldn't be complete without Valentine's Day treats. Chocolate is the number one Valentine's Day treat that most women like to consume. They also like to eat strawberries. Chocolate and strawberries are often combined on Valentine's Day to make a scrumptious treat that many pregnant ladies will find hard to resist. Cakes, cookies and cupcakes are other great treats that expectant moms crave as well.
Valentine's Day Gifts for Pregnant Ladies
Flowers are the traditional Valentine's gift for the honeys. Many women love to get flowers from their partners or secret admirers on this special day. Even though she is pregnant, she can still enjoy a great bouquet of flowers. Other gifts,, such as jewelry, are also a hot commodity on the Day for Lovers.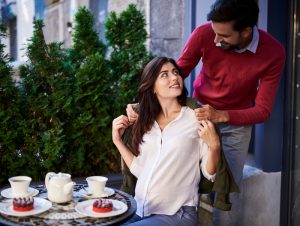 Many woman may enjoy a gift such as a golden pendant, a stylish bracelet, or even a sparkling diamond ring. Women generally like to get sparkling diamonds, glittering gold, and dazzling jewelry pieces. Just remember that her fingers may be a little swollen during this time, so size the ring up or go for a more universal fit such as a necklace or earrings.
Perhaps instead of a tangible gift, you could book a special afternoon at a masseuse, treat her to a five-star hotel, or go on a couples' retreat so that you two can get away for the weekend. Traveling will be a great way to spend Valentine's Day.
Finally, we don't want you to forget about the simpler ways that people enjoy Valentine's Day together. You can take her out to eat at your favorite restaurant, go see a romantic movie or attend a theater event featuring a romantic theme. If you're up for it, you could even go clubbing and have fun.
Sexy Valentine's Day Maternity Lingerie
Valentine's Day is also known as the day that couples enjoy each other's passion. Many guys like to buy their special lady lingerie for this day. You might be the type of pregnant lady that wants to look sexy for your lover. When a woman wears lingerie while she is pregnant, she normally projects a loving glow.
Your beautiful body in lingerie will make your man stop in your tracks and take notice of you. Maternity lingerie will not make you look over the hill or unattractive. These pieces are designed to be sexy, appealing and flattering for your figure. You can even pick out your special lingerie pieces to make you feel attractive. Maternity lingerie can help to make Valentine's Day a very special time for you and your lover.

Everyday You

Relationships and Sex