Bringing your newborn baby home from the hospital can be both an exciting and nerve wracking time. You may feel an enormous amount of pressure to "do things right" and to take care of this new little human being in the best way that you can possible.
Settling the "rules" for the hospital and first week home before you go into labor can help make the process easier for not only you, but those around you. When you sit down and decide what is best for you and your family beforehand, then you can try and get everyone else on the same page and ready for what is to come when baby makes their arrival into the world!
Setting the "Rules" for the Hospital
Before giving birth, there are a few conversations you will want to have with your partner to decide what works best for you. Talking about these things beforehand will not only help make the process of labor a little less stressful, but it can also let your family know what to expect if your viewpoints may be a little different.
Here are a few questions that you may want to have answered before the big day to help it all go a little easier:
Who do you want or don't want in the delivery room?
How many visitors do you want after birth?

Perhaps you don't want any visitors at all, or you may just want only a few at a time so that you and the baby do not feel overwhelmed. It is your time and your baby, so think about whatever works best for you both.
If you are breastfeeding, there may be some visitors that you want to wait until you get more comfortable with the process or to come right after you are done feeding.

Do you want to allow your visitors to pick up the baby, or just come in see them and say their congratulations?

Do you want anyone who touches the baby to use hand sanitizer before hand or to make sure to thoroughly wash their hands?

Do you want photos of the baby to be taken? When do you want them taken? Do you want them posted to social media by you or someone else?
If you have kids already, or your family members have young children, do you want them to come to the hospital or wait until some time has passed?
By having conversations about these and more with your partner before the baby arrives you can be a united front when the time comes or perhaps even make friends and family aware of your wishes ahead of time. If you do not want visitors at the hospital or you wish to have only your partner with you during the birth, letting your loved ones know beforehand can help everything flow easier when the time actually comes.
Taking the Baby Home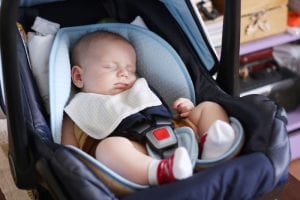 Once you take the baby home, a new set of questions or "rules" come into play. Taking your newborn home you are now bringing your baby into your own surroundings and the place where they will grow up. Therefore, it is your rules and your way. Do not let others intimidate you or make you feel as if you need to do something that you are not comfortable with.
Here are some common "rules" that many new parents set for the first week home:
No smoking around or before holding the baby. Many new parents are not comfortable with cigarette smoke around their baby and for good reason! Do not be afraid to speak up and voice your opinion if this is the case. If you do not want family members to smoke before they come to visit you or hold your baby, try and let them know beforehand so that they can plan for this. Or perhaps ask them to bring an extra shirt with them to change into if the one they have on smells too much like smoke. Remember it is your home and your baby, so it is alright to ask your visitors to do whatever you feel comfortable with. If they do not agree to your "rules" then they can come back and visit at another time, if that is what you wish.
Anyone that holds the baby must have a flu shot. A newborn baby does not have the same immune system as toddlers or adults. They are quite susceptible to colds, flus, bacteria, etc. Due to this, many new parents do not feel comfortable with friends or family holding the baby if they have not had a recent flu vaccine.
No visitors during the first week. It is entirely up to you and your partner how many visitors you would like and when you would like them to come. Many couples choose to spend the first week or two of their baby's life alone so that they can get into a routine together and truly spend the time bonding as a family. You will be figuring out what your parenting style is like and how you want to raise your baby, some want to utilize this time alone to avoid suggestions or advice from others that they may not want.
Visitors must bring food. On the other hand, some want the help and guidance of their friends or family during this time. Many couples ask their visitors to bring food, cleaning supplies, diapers, or to come willing to help with chores! Things like these are all absolutely okay to ask of your guests, you will probably be sleep deprived and feel like a zombie during this transition period. Asking for a little help is totally alright and you will be thankful that you did!
Hands must be washed and sanitized before holding the baby. This is a very common and good rule for new parents to withhold. By having guests wash their hands and use sanitizer before touching your baby, they will help try to avoid the transfer of germs or bacteria to your newborn.
These are just a few of the many possible rules that you could set for your first week home. The rules that you and your partner set should be dependent on your values and what matters most to you. You are merely trying to create the best environment for your baby that you can, your friends and family should hopefully happily support that.
Conveying Your New "Rules" to Your Family
Many people feel uncomfortable or guilty when it comes to setting up "house rules", but try to remember that this is your baby and your home throughout the process. Your friends and family should hopefully support your thoughts and viewpoints and want what is best for your child.
That being said, talking about what you want for the hospital and the first few weeks home ahead of time will help to get others on board with your wishes. As soon as you and your partner have decided on a set of "rules", if you feel comfortable you can start talking to your family about them. This will help them to know what to expect and help you to see if they support your wishes or perhaps you may need to make a few tweaks.
If you are worried that you will upset them or offend them with some of your rules try and explain to them why you wish to put those rules into place. Having an open conversation may help to avoid future conflict.
Having everyone aware of the rules beforehand can help to ensure that they are followed once in your home. You can always politely remind them once they do arrive if you still have any worries. There may be some family or friends who do not share your viewpoints on some matters and that is alright. It is your baby after all and you can create any rules that you wish.
Talking to the Nurses Beforehand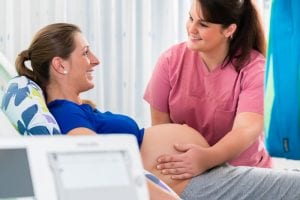 Upon arriving to the hospital before birth try and let your nurses know what you want. Your labor and delivery nurses are there to help you! If you do not want certain people within your room, or do not want someone to hold the baby until you feel comfortable letting them know will help make enforcing this even easier!
If you have a list of pre approved visitors during your labor or for the days after you can provide them with this and they will be that buffer for you. You may feel guilty or like a "bad guy" if you do not want certain people there, or someone to hold the baby until you are ready- but don't. Try and remember that you, your partner, and your baby are all that really matter in this situation. You are in control of how you want to handle visitors and your child. Always do what is best for you, even if that means it can inconvenience others.
Overall
This is a precious time that you will never get back, try and soak it all in! Creating a plan that you are happy with will help to make the first few weeks of parenthood that much more exciting and enjoyable. Congratulations on your new little bundle(s) of joy!

Baby's First Year

Postpartum Basics