Preparing to bring your baby home from the hospital is an exciting and busy time for expecting parents. You want to try and make sure that the house is completely ready for your new addition to feel comfortable and for the transition to go smoothly. Safety concerns and child-proofing are important, but they are not the only things that should be done.
1.Safety Concerns and Childproofing
First things first and that is safety. While it may seem like having to baby proof the house is far away, this is more often than not the case. Babies become mobile very quickly and its easier to prepare for the little explorer before they arrive rather than later on when you have your hands full. It is important to keep all cleaning products and chemicals out of sight and reach from the baby. Make sure that it is securely locked in a cabinet to avoid mishaps. This also includes medication that may be around the house.
Make sure to check all smoke and carbon monoxide detectors within the house. This includes changing the batteries if needed. This will help to ensure that you will have one less thing to worry about during your transition to parenthood.
It is important to check and make sure that all sharp or small objects are kept off of the floor and in a place where the baby could not get them. Once they are crawling around the house, you may be so busy following them around that you forget to check on the level of things around them.
If you have a staircase in your home, finding a baby gate to help separate the area off will help to ensure a peace of mind once the baby is moving around the house more freely.
2. Deep Clean and Organize the House
When bringing a baby home from the hospital you want to try and make sure that they house is clean from germs, as much as possible. The germiest places that you will find within your home will be dish rags, the kitchen sink, sponges, faucet handles, refrigerator handles, cutting boards, countertops, and toothbrush holders. Try using sanitizing wipes and storing them in a common area to quickly wipe down and clean these areas on a daily basis.
Plan ahead for where the daily baby items will go. Try to find a space on your counter that you can store your bottle rack or baby food maker. You may want to find a convenient place to store diapers, wipes, wash clothes, baby medication, and extra clothes for quick access.
Make sure your daily essentials are easy to get to as well, for example that coffee pot you may live by. Having a stash of daily essentials, such as paper towels and toilet paper, will help you as well. Stocking up on non perishable items is always a good way to go when you know that you will be busy and preoccupied for quite some time.
Go through your fridge and kitchen cabinets and make space for new food that you may wish to eat, or stocking up from the grocery store to make less trips. You can also find a place to store formula and future baby food for when the time comes.You may not want to go shopping every week once the baby has arrived. It is always good to have a big shopping trip before your due date comes to be prepared to stay in and focus on healing after birth and taking care of the baby.
If you are planning to breastfeed clean out room in your fridge and freezer to store extra precious breast milk. Make sure to clean the fridge from top to bottom. Throw out everything that is expired or unidentifiable. Wipe down the shelves with a warm sponge, and even use diluted white vinegar for sticky or hard to clean spots.
Going through your fridge and cabinets now, will help to free up valuable time later that you could be spending with your little one.
3. Prepare for Visitors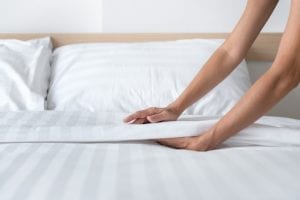 You will be thanking yourself in the future for spending the time now to gather what your upcoming guests may need during their stay. Usually family and friends will travel to come meet your new bundle of joy, and they may be staying at your home. You may even have family members coming to specifically help you with your new baby and the healing process during this time. By preparing for multiple visitors now you won't be racing around searching for the things you will need to make them comfortable later. Store items such as clean sheets, towels, toothpaste, toothbrushes, and toilet paper in an easily accessible place for when they come.
4. Revamp your Laundry Area
Before the little one arrives, it is always good to get ahead of the laundry to come. Wash and fold any new clothes, sheets, towels, and washcloths that you plan on using, and remove all tags and packaging. Make sure to invest in a detergent that is free and clear of all dyes and perfumes, or created specifically for infants.
You may want to invest in a larger hamper to help separate and keep track of laundry, as you will want to wash the baby's things separately from your own. This could include coming up with a new organization system to keep everything separated and organized.
Prepare for all sorts of new stains coming your way. You may want to invest in a new stain fighting solution sold in stores that is perfume and dye free. This way you can use the solution on both yours and baby's clothing. Try and spray the stain remover right away to any new stain that appears. If you can not do a load of laundry then, soak the item after you have sprayed the remover on it to allow for the stain to begin to separate.
5. Set Up the Family Car
It is very important to ensure that your car seat is correctly installed before bringing baby home. Car seats can be difficult to install, especially with different makes and models of cars and for first time parents. Within the family car, it also helps to have a stash of diapers, travel wipes, and ziploc bags at the ready. This will help with emergencies that may arise while on a quick errand or an unexpected trip and a forgotten diaper bag!
Complete the necessary maintenance and checks on your vehicle before the baby arrives. You want to make sure that your vehicle is as safe as it can be with your new precious cargo on board. This will also help to free up time later that you would rather spend with your newborn. It also provides a peace of mind, during a time that may become stressful and sleep deprived.
Preparing for Baby
While these are just a few things to do to prepare for your new bundle of joy, they will help to get you ahead. When the due date begins to near it can feel like there is so much to do and no time to do it in. By taking initiative and preparing for the future you will help make the transition after labor and birth a lot easier.

Preparing at Home

Preparing for Baby