It is good to stay active and exercise during your pregnancy. But there are some signs to watch out for that let you know that it is time to cut back on your exercise routine.
Dizziness
The first sign is experiencing dizziness. This could be happening because you have extra blood pumping inside of your body while you are pregnant. Therefore, you are going to need to talk to your doctor if you are experiencing this while exercising.
There is a chance that you might be dehydrated if you have a headache or a heart flutter along with the dizziness. It could also be possible that you don't have enough iron in your blood.
Heart Issues
The second sign involves chest pain or heart palpitations. If you are feeling any strange or fluttery sensations inside your chest, there is a chance you might be exercising too hard. It is best to slow down the exercise until you are able to come to a stop. This is something else that you are going to need to talk to your doctor about.
Back Pain
The third sign is pain in your back or pelvis area. Most of the time, when a pregnant lady is going through the changes in her hormones, these changes can affect the ligaments that might normally support your joints. The hormonal changes might make the ligaments looser and less stable. Therefore, you are going to be more prone to injury.
Nausea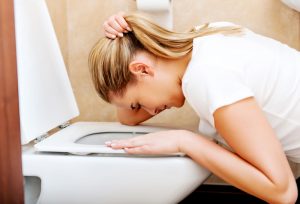 The fourth sign is nausea. This is going to include vomiting or feeling faint. If you feel like you are sick while exercising or if you vomit, you are probably overdoing your exercising. You are going to need to slow down and rest some. Feeling faint is a sign that you might have low blood sugar, so you will need to stop exercising.
It is a good idea to eat a small snack before you start to exercise. However, you are going to need to wait a little bit after eating before you exercise. You want to make sure that you have enough calories to compensate for the strenuous exercise.
Feeling Hot
The fifth sign is feeling very hot. Most of the time, when you are pregnant, you are going to feel hotter than you normally would. Therefore, it is very important to make sure that you are not over-exerting yourself. Overheating can be very dangerous for your body, especially in the first trimester of your pregnancy.
This means that you need to make sure that you are not doing any strenuous exercises when you are in hot or humid conditions. It is also a good idea to have some water before and after your exercise so that you don't overheat. If you are used to doing a lot of exercise, you need to make sure that the high-intensity exercises don't last any longer than one hour.
Swelling
The sixth sign is swelling in your feet and hands. Seeing a little bit of puffiness after you have exercised is normal, but if you have noticed that the swelling is more pronounced than normally, you will need to call a doctor. If you are experiencing severe swelling in the second trimester of the pregnancy, it could be a sign of pre-eclampsia, which can be very harmful to your baby.
Bleeding
The last sign is bleeding in the vaginal area. There are some women who have light spotting while they are pregnant. But if you are actually bleeding, then there is cause for concern. You should urgently seek help if it happens, especially in the early stages of your pregnancy. Bleeding is a potential sign of a miscarriage, so it must be treated with urgency. In the later stages, it could mean that you are in premature labor.

Fitness

Prenatal Health