Working the night shift during pregnancy requires that you take steps to get proper rest. You can use these tips to get sleep and get everything done.
Working During Pregnancy
Many women continue working throughout their pregnancy and there is no need to stop working as long as everything is going well. In fact, continuing to work helps you stay emotionally and physically healthy while also increasing your budget for baby gear.
However, careers such as nursing often require that you continue to work at night, and this, combined with your pregnancy needs, can affect your rest. Now that you've decided to continue to work through your pregnancy, you can focus on adding strategies that help you get quality sleep to your routine.
Tell Your Doctor That You Work the Night Shift During Pregnancy
According to the Royal College of Physicians, there is a minimal potential risk for problems such as preterm labor or miscarriage during your pregnancy. Although all pregnant women face a small risk of these issues, those who perform shift work have a slightly higher risk than those who do not. Let your doctor know about your work schedule so that he or she can help you continue a healthy pregnancy.
Create a Comfortable Sleep Environment
Working the night shift means that you must find ways to sleep during the day. While you may have gotten used to doing this, the changes that occur with pregnancy may cause you to need to review your current sleep habits. For instance, those adorable little baby kicks may wake you up frequently, and you need to be sure that you can go back to sleep quickly. Assess your current sleep environment to find ways to make it more conducive to sleep. For instance, you may need to hang room darkening curtains or change to a quieter bedroom that does not get as much street noise.
Induce Sleep Naturally With Melatonin
Melatonin is a hormone that your body naturally produces. However, working the night shift can sometimes affect your body's production of the hormone due to the disruption it causes to your circadian rhythms. Melatonin supplements are a safer alternative to other sleep aids that may be habit-forming or have an effect on your baby.
While you should always consult with your physician before taking anything new, you should be able to safely take melatonin in small doses, which will have a significant impact on your sleep pattern. Melatonin also causes no real side effects, so you wake up for work rested and not groggy.
Conserve Energy During Your Time Off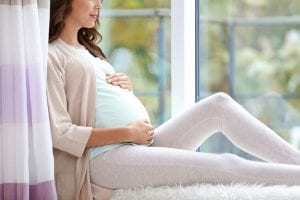 With so much to do to get ready for your baby, you may be tempted to try to skimp on sleep to accomplish your errands. However, doing too much during the daytime hours will affect your health and your baby's development. Instead, try to conserve energy during your time off.
Make sure to get eight hours of sleep and try to have at least one day a week to rest. Remember that many of your tasks can wait. Do something nice for yourself: read a book or enjoy a good movie, for example. Your body and mind will show the benefits of taking the time to rest.
Follow a Healthy Diet and Exercise Plan
Working the night shift during pregnancy also wreaks havoc on your eating and exercise routine. If your work shifts are often too busy for breaks that are long enough to eat, try packing healthy snacks that you can grab whenever you have a few minutes to eat. Apple slices, walnuts and granola bars are a few options that you can snack on within minutes. You also need to continue to exercise. Whether you follow an exercise video at home when you get off work or go for a walk, staying active helps your body generate energy. Just make sure to exercise several hours before you need to sleep. This way, your body has time to cool down before you close your eyes.
Enjoy This Time
Your pregnancy is a special time during which you get to bond with your baby and take care of your body. While it may be challenging, getting proper rest and relaxation helps you maintain a healthy pregnancy that will lead to your special delivery.

Everyday You


Sleep