Pregnancy can be a very exciting yet stressful time for any woman. There are many worries that go through the mind of pregnant mothers, but most people don't think about how diet affects pregnancy. Most women will experience increased appetite during their pregnancy and may crave certain foods like sweets or meat products. This occurs because their bodies need more energy to sustain themselves and the baby, as well as produce breast milk for feeding after birth. However, it's important not to sacrifice nutrition just because you have an increased appetite! One food that can provide all of the nutrients your body needs while still being something you enjoy eating is millet! This is a natural food that has been around for centuries and is still used in many countries worldwide. Most people who are aware of the health benefits of millet use it in place of some grains like rice and wheat because it is gluten-free.
Anyone who includes millet in his or her diet enjoys the fact that it is also a whole grain. But did you know that millet can also be used to help with pregnancy? For example, when looking for foods to eat during the third trimester of your pregnancy (the final stage), try adding in some roasted or steamed millet! Not only will this keep your appetite satisfied, but it will also provide you with the calcium, iron, protein and other nutrients that you need to ensure a healthy pregnancy.
Health Benefits of Millet to Pregnant Women
1. Prevents Constipation
During pregnancy, the gastrointestinal tract is slower than normal. This can lead to constipation during pregnancy, where one's stomach becomes bloated and uncomfortable. Brew millet in milk with cinnamon to prevent constipation during pregnancy, caused by the slow movement of food through your digestive tract. It also reduces bloating due to its high fiber content.
2. Provides Vitamins and Minerals
When a woman is pregnant, her body is in high demand of vitamins and minerals, which millet is a rich source of. It contains small amounts of every vitamin you need, including vitamin E and several vitamins in the B-complex: thiamine, niacin, riboflavin, pantothenic acid and pyridoxine. It is also rich in minerals like magnesium, manganese, iron and phosphorous.
3. Boosts Blood Production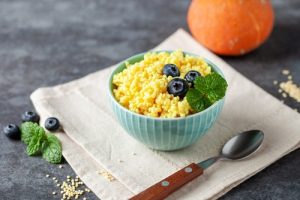 During pregnancy, the demand for iron increases, which is needed to produce blood. Blood is required to carry oxygen and nutrients from the mother's body to the fetus. A millet-based diet can be a rich source of iron, which plays an important role in boosting blood production during pregnancy. This leads to increased production of red blood cells that produce hemoglobin, a substance that carries oxygen.
4. Prevents Birth Defects
Millet is a good source of folic acid, which prevents birth defects in the fetus. Folate is important during pregnancy because it ensures the healthy formation and development of nerve cells. It also reduces the risk for neural tube defects like spina bifida in babies since its critical period begins early on, often before a woman even realizes she is pregnant.
5. Prevents Premature Labor and the Risk of Chronic Hypertension
Millet-related foods are a good source of magnesium. Magnesium helps in relaxing the muscles and prevents premature labor as well as chronic hypertension during pregnancy, conditions that can be harmful to both mother and baby.
6. Prevents Anemia
This natural food is a rich source of iron, which is important in the prevention of anemia during pregnancy. Iron prevents fatigue and weakness by producing red blood cells that carry oxygen to all parts of your body. It also boosts energy levels during pregnancy when you are exhausted due to increased weight gain, morning sickness or insomnia, among other factors.
7. Good for Your Heart and Blood Vessels
A millet-based diet is a good source of manganese, which helps in the formation of connective tissues like bone cartilage. It also promotes heart health by ensuring the proper functioning of your blood vessels since it prevents high cholesterol levels that lead to cardiovascular diseases. Millet's magnesium content reduces the risk of high blood pressure and heart-related problems.
These are some of the top benefits of consuming millet-based foods during pregnancy. They ensure your baby is born healthy and prevent many conditions that may occur during pregnancy. It's thus necessary to include this natural whole grain in your diet throughout your pregnancy for a healthy and thriving fetus and mom.

Diet

Prenatal Health