Nesting is not merely an action performed by expecting mothers in the animal world.
This brief article will discuss several aspects of this human phenomenon, its evolution and tips women might employ to complete the process safely and happily.
What Is Nesting? 
This occurrence is an accepted practice that is described by the American Pregnancy Organization (APO) as an expecting mother's strong need to prepare her home for the birth of her newborn. Just as females across the animal world build nests to accommodate their newborns, people-moms experience similar desires and display maternal instincts.
What Occurs During the Process? 
The nesting process often includes a woman executing any number of steps designed to make her infant more comfortable when the child is brought home and make the transition to motherhood easier to grow accustomed to when the baby arrives. Some of these steps include the following:
Cleaning– Many women undergoing this phase will put their residence through a significant upgrade. They might engage in activities such as thoroughly cleaning the home, clearing out closets and ridding themselves of items they no longer want or need.
Organization– Many mothers-to-be like to organize their schedules and place emphasis on tending to whatever activities will best suit the needs of their newborns.
Creating a Safe Environment – Many women will also place added emphasis on establishing as safe and healthy an environment as possible. In some cases, such endeavors might include the purchasing of a larger, safer vehicle, ridding the home of any known allergens and the installation of various baby-monitoring devices.
The Background of This Phenomenon
While many women experience this need, others do not. Medical and psychological professionals cannot pinpoint exactly what prompts certain women to partake in nesting. However, some declare that the need to "nest" is borne from the natural maternal instincts that are believed to develop as a woman gets closer to giving birth. Others suggest the phenomenon might be spurned by several other personal or environmental factors such as the need to move around or enjoy the outdoors, as a means of overcoming boredom or as a positive outlet to channel an expecting mother's energy and excitement over the prospect of becoming a parent.
Tips Women Can Employ 
The following tips can help make the nesting phase both safer and more enjoyable.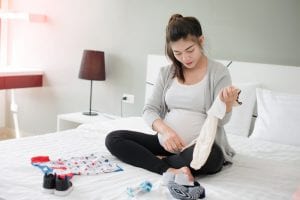 Do Not Lift Large or Heavy Objects – Despite the energy a happy and excited expectant woman might feel, lifting or carrying large objects could cause her injury or could potentially harm her baby.
Avoid Risky Activities – Soon-to-be-mothers should avoid participating in any activity that might cause them to fall or cause bodily harm that could hurt them or their babies.
Avoid Using Certain Chemicals – As previously stated, a woman might experience an increased need to clean. That said, health experts warn against the use of chemicals such as bleach. Inhalation of chemical fumes could pose harm to both mother and unborn child.
Accept Help – Many mothers possess an exceptional ability to handle numerous tasks. However, it is appropriate to either expect or ask for help. Wearing too many hats could lead to physical or mental exhaustion that could potentially harm the woman and her baby.
Complete Lingering Chores – After her child is born, a new mom may not have the time to complete lingering chores that, if not completed, might make the transition into motherhood more difficult, such as a car repair.
Baby-Proof the Home – Ensure the house is as safe and healthy as possible for a newborn. Remove all small and large objects the baby could run into or possibly swallow and execute any home repairs that might threaten the baby's well-being.
Get the Financial House in Order  – Once a baby arrives, much supplemental or disposable income will likely be expended tending to the child's needs. Therefore, it is important for expecting mothers (as well as their significant others) to make a frugal budget and carefully itemize pertinent expenses to avoid financial difficulties.
Complete Pertinent Paperwork  – Paperwork can always be nagging work. However, it might be necessary for your baby's health. This is particularly true in relation to essentials such as applying for daycare and getting the child's medical records in order.
Take Rest Periods  – It is important for an expecting mother to give herself adequate periods of rest to regain her strength and protect her unborn child.
Have Fun and Enjoy  – Creating the best nest can be arduous and tedious. It is important for women experiencing the phenomenon to give themselves time off to enjoy fun activities that keep their minds clear.

Preparing at Home

Preparing for Baby