The benefits and general impacts of selenium were previously unknown, but with advances in modern science they are gradually coming to light as described below.
Many trace elements have been found to impact significantly the normal physiological functions of the human body. Elements such as calcium are essential for muscle contractions and intracellular communications. Sodium and potassium, on the other hand, are both important in transmission of nervous impulses. Among these enzymes is selenium, an element whose history has for a long time been dark. With the ongoing advances in science, particularly health and medicine, more information is coming to light. Pregnancy is an important step in the life cycle of human beings. An uncomplicated pregnancy is desired by all parents, and to achieve this, several steps have to be taken.
Information regarding the role of selenium in pregnancy is conflicting, majorly because of the minimal knowledge and research that surrounds it. However, the following has been proven to be true about the role of this element in pregnancy.
Selenium reduces the risk of developing preeclampsia and IUGR
Common in pregnant women, preeclampsia is a condition that results from the increase in blood pressure in women that previously had normal blood pressure. The high blood pressure usually causes a cascade of events that leads to the damage of other organs, commonly the liver and kidney. Intrauterine growth restriction (IUGR), on the other hand, is the underdevelopment of the fetus relative to the developmental stage. Selenium supplementation reduces the prevalence of these conditions.
Antioxidant properties
Common antioxidants are vitamins. However, elements such as selenium possess antioxidant properties that can offer an alternative to vitamin intake. Antioxidants function by keeping the body safe from otherwise deadly free radicals that are produced as products of metabolism. Examples of free radicals include a hydrogen ion complex called hydroxonium. The conversion of such elements into less harmful forms is done by antioxidants such as selenium.
Preterm delivery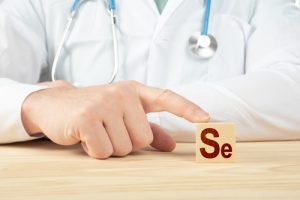 Deficiency in selenium levels has been associated with preterm deliveries and miscarriages, and this has also been the basis of detecting the probability of their occurrence. Despite the inconclusive information available on the effects of low levels on pregnancies, statistics suggest that it is very important. In recent studies, pregnant women who had lower amounts were more likely to give birth preterm as compared to those with sufficient amounts.
Baby's Health
This essential mineral plays a crucial role in fetal development and helps prevent congenital disabilities. Studies show that it can help reduce the risk of neural tube defects (NTD) like spina bifida and Down syndrome. The good news is that its supplements are safe for most pregnant women, so long as they don't have a known deficiency in the mineral.
Moreover, since selenium is naturally found in foods like seafood, rice, wheat germ and beef liver, it's possible to get enough of this mineral through diet alone.
Some women concerned about the possible side effects of taking it during pregnancy might want to take a multivitamin with a healthy dose. This will ensure that the woman gets enough selenium while also meeting her daily nutritional requirements for vitamins A, C, D and E. If you're not sure if you should be taking a supplement or eating certain foods during pregnancy, talk to your doctor about which option might be best for you.
Taking Selenium During Pregnancy
Though the risks of taking selenium during pregnancy are low, it is still recommended that women consult with a doctor before taking this supplement. The decision to take it depends on your personal preferences and factors such as age, health and the state of your unborn child. If you decide to take selenium, it is essential to understand which form is best. Some tablets contain selenium in a form that can be taken during pregnancy. Some capsules can be taken regularly or as needed by pregnant women. Plus, dietary supplements come in liquid forms or tablets, so they can be easily absorbed into the system without causing any side effects.
Conclusion
In conclusion, maintaining the levels of internal selenium within recommended ranges is important for non-eventful pregnancies. This can be achieved through supplementation, when these levels are in deficient quantities. When these levels are too high, dietary readjustments and physical exercise aimed at cutting down on fats should be engaged to bring them back to normal. The impact of selenium on pregnancies is undeniably significant and therefore it should be monitored throughout the length of the pregnancy.

Prenatal Health