Cluster feeding is a time when your baby will want to have a lot of short feedings within a few hours. This is normal and happens often within the early days of breastfeeding. Cluster feeding can feel very confusing and very difficult, but these days will pass.
What Is Cluster Feeding?
A newborn will usually nurse every two to three hours resulting in a total of eight to 12 times within a 24 hour period. When cluster feeding a baby will feed several times within this window, every hour or even more frequently than this. Your baby may also be fussy during these times which can cause fatigue and frustration for new parents. Even though they are inconvenient these feedings are essential for your baby and your milk supply.
Why Do Babies Cluster Feed?
It is more common for cluster feeding to occur in the late afternoon or early evenings. However, it can occur at any time of day. This stage usually occurs during the first three months of life.
There is no exact reason for cluster feeding, but experts believe it may be to help boost the mother's milk supply. It may be that your baby is seeking more milk and feeding more often will help to boost milk supply.
Here are some other reasons why cluster feeding may occur:
Preparing for a longer sleep – When it occurs before bedtime it may be that some babies just prefer to fill up on milk for a few hours before having a longer sleep.
Milk flow is slower at night – Some babies will nurse longer or more often to fill up due to the slower flow.
A growth spurt – Your baby may be going through a growth spurt as babies grow rapidly during the first few months. This means that babies will need to nurse more often. Growth spurts usually occur around three, six, and eight weeks of age.
They are in need of soothing- Nursing offers your baby all sorts of comfort. Breast milk in itself has hormones that help to develop your baby's circadian rhythm. At nighttime your baby may just be seeking comfort to help them sleep.
A developmental leap is occurring- Much like growth spurts, babies also go through mental growth spurts. These spurts are also known as "leaps". They occur when they acquire new emotional and social skills.
Your baby is sick, thirsty, or teething. When your baby is seek they may be seeking the comfort that nursing offers to help them relax and know that everything will be alright. This is a plus because breastmilk is filled with antibodies that will help your baby to fight off their illness and decrease the pain they may be in.
Growth Spurts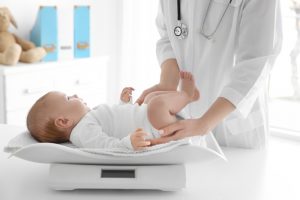 Your baby will go through many growth spurts throughout their first year of life. This can cause your baby to nurse longer and more often. They will typically occur when your baby is three weeks, six weeks, three months, and six months of age. However, it could differ as every baby is different. A growth spurt will typically last for a few days at a time.
Growing is hard work for your baby so they may be fussier during this time. This is why they may want to nurse more often. Nursing will help to comfort and nourish them for all of the hard work that their body is doing. It may feel as if you and your baby never separate during this time period, but it won't last forever.
Cluster feedings can help to increase your milk supply and keep up with your baby's needs during this time. Supply and demand, once your supply begins to increase you may not have to keep cluster feeding for long.
You might feel hungrier or thirstier during this time, so follow your body's cues. When your milk supply increases your body will likely need more food and water to help with the extra work you are doing as well.
How to Know my Baby Needs More
Cluster feeding may be your baby's way of letting you know that they need more milk. By letting them cluster feed this will help to tell your body to produce more. If you are feeding your baby when they are hungry then you should be providing them with enough milk. However, if you are worried that they are not getting enough here are a few things to look out for:
If they are not gaining weight.
If they are not producing wet and dirty diapers.
If they are not settling after they have finished with their feeding.
If you notice any of these signs, it may be best to consult your doctor, pediatrician, or lactation consultant.
Cluster Feeding for Formula Fed Babies
Usually cluster feeding will only occur with breastfed babies, however it can occur with formula fed babies in rare instances. Make sure to have plenty of formula or pumped breast milk on hand and follow your babies hunger cues.
Tips on How To Cope with Cluster Feeding
Cluster feeding can feel a bit overwhelming, especially if you are a first time parent. Breastfeeding is a beautiful bonding experience, but it is not always easy.
Here are a few things that you can do to help get through this stage.
Accept the crazy. – Know that your baby will be nursing a lot. Reassure yourself that your baby is perfectly healthy and is just growing. Try and remember that this time will pass. Use this time to enjoy the extra moments that you are spending with your baby and try to make the best of it. .
Create a nursing station. – You will be spending a lot of time nursing or bottle feeding your baby during cluster feeds. Why not set up a comfortable area in the house to make it more enjoyable. Have it stocked up with snacks, water, a good book, and your phone charger. This will help being stuck under your little baby even easier.
Ask for help. – Cluster feeding can make it impossible to get everything done. Let others help you. This could be from cooking, household chores, or even projects with work. Family and friends will often want to help you when you have just had a baby, take advantage of it. Or worst case – the dishes can wait.
Don't forget about your nipples. – Extra time breastfeeding or pumping means that your nipples will likely become irritated and painful. Apply breastmilk, nipple butter, or lanolin to help add extra moisture and protection. You can also use organic bamboo nursing pads to help with cracked, sore, or chafing nipples.
Don't forget about your needs. – It can be very easy to forget about your needs when taking care of a newborn. You need sleep, food, water, and rest yourself. Make sure to sleep whenever your baby sleeps and take time for yourself. Enlist your spouse or friend to watch the baby for a few hours so that you can sneak out and enjoy an uninterrupted nap or run some errands. Just make sure to have plenty of breastmilk pumped and ready to go if they need it!
Try new feeding positions. – This will help to mix things up. That way you aren't stuck in the same position for what feels like hours. Try a new position such as side-lying or laidback positions for some extra rest.
Be patient. – Every baby is different. You will find a new routine and how to best conquer it with time. Cluster feeding may seem never ending, but it will all pass within a few months. Forgive yourself and let your to-do list slide. Enjoy this time with your little one as it will fly by.
Overall
While this time may feel like it is not going to end, it is completely normal and temporary. Before you know it you will miss this extra time that you are spending with your baby. Breastfeeding is not always an easy journey, but you are helping your baby to grow strong and healthy.

Breastfeeding

Postpartum Basics