Being pregnant during the COVID-19 pandemic has been a concern to many women, especially those who are pregnant. While the height of the initial pandemic wave is over, with variants and subvariants continuing to emerge and case numbers fluctuating, the threat of the virus is still looming, even for those individuals who have already contracted the virus. Even with vaccines now in play, coronavirus infection risk is still present. Thus, it is important to take precautions to ensure that both mother and unborn baby are remaining safe with no unnecessary complications.
There's no doubt that women undergo many changes during pregnancy. From first trimester to the third, pregnancy can put additional strain on the health of a woman's kidneys, heart and entire immune system. This means that contracting any of the COVID variants during pregnancy can put a major risk on the health of a woman and that of her unborn baby.
The Risk of COVID-19 During Pregnancy
While many women may understand their immune system is weaker during pregnancy, what many don't realize is that this is the body's intentional response to allow the fetus to develop without being rejected by the body. Although this is helpful to the growing baby, it can make women more vulnerable to various illnesses and infections such as urinary truck infections, flu, colds, and the coronavirus, COVID-19 and its multiple variants.
Although studies have shown that both pregnant and non-pregnant women have the same chances of contracting COVID-19, pregnant women are more susceptible to more severe cases, complications and additional risks compared to those who are not pregnant. Some of the increased risks associated with COVID-19 infection during pregnancy include:
Blood clots
Respiratory complications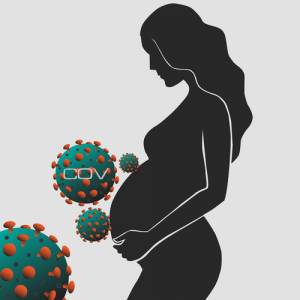 One of the confusing aspects of the COVID-19 virus and its variants is the scale of which it can affect individuals infected. While some individuals who contract COVID-19 experience mild symptoms, others can experience severe complications or worse, and as variants continue to emerge, a lot of research is still continuing with regard to the correlation between pregnancy and COVID variants, but many results are showing that some variants, such as Delta and Omicron may be just as contagious and severe, if not more so, than the initial virus.
COVID-19 Effect on Newborns
One of the biggest concerns amongst women in their third trimester is whether their baby will be born with COVID if they are sick, and while studies have shown that most newborns from women who had contracted COVID-19 while pregnant don't turn out to be positive when they are born.
However, as a result of their smaller airways and undeveloped immune systems, that make them even more vulnerable to respiratory infections and breathing difficulties, infants have a higher risk of experiencing severe illness due to infections compared to older children. Because of this, studies have shown that there are some newborns who have tested positive shortly after birth; possibly due to prolonged contact made with mother or anyone close to them who has the virus in their system, whether symptomatic or asymptomatic.
While babies and children tend to have milder COVID-19 symptoms than adults, symptoms may still include;
Cough
Fever and chills
Shortness of breath (more common in adults)
Muscle and body aches
Sore throat
Pneumonia
Loss of taste and/or smell
Headache
Diarrhea
Fatigue
Nausea or vomiting
Additionally, in one study, research found that babies born during the pandemic's first year scored slightly lower on developmental screening tests at six months compared with babies born just before the pandemic.
While the virus may not be at a high transmissible rate to the baby at the time of childbirth, research has shown that protective antibodies are found in infants who are born to vaccinated mothers, compared to mothers who were unvaccinated or who were previously infected.
A Look at COVID Variants and Their Impact on Pregnancy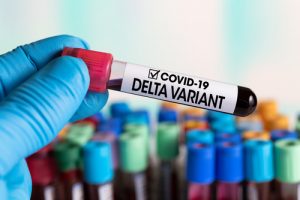 Delta variant turned out to be one of the most dangerous and infectious COVID variants. Those who got infected with the variant experienced severe symptoms and complications. Researchers also discovered that even people who had already been vaccinated were at risk for infection and reinfection with the Delta variant.
With regards to pregnant women, studies have found that most pregnant women who get infected with the virus have increased risks of developing more complicated cases of COVID-19 compared to their counterparts who are not pregnant.
The Omicron variant was first detected in South Africa and Botswana. Doctors say that the variant is highly infectious; spreading more quickly and easily compared to other COVID-19 variants. Considering the fact that pregnancy lowers immunity, women are encouraged to do everything possible to avoid contracting the virus.
In fact, studies have shown that during the Omicron surge pregnant women were diagnosed with COVID-19 at higher rates than during previous phases of the pandemic. While the rate of infection was higher than previous variants, the risks associated to them were less. In fact, the Omicron variant appears to cause more mild symptoms than the previous Delta variant.
The Omicron Sub-variant BA.2 has been described as the most dominant strain of COVID-19 in the world. This variant, along with the additional subvariants of Omicron, B.1.1.529, BA.1, BA.1.1, BA.3, BA. 4 and BA. 5 have all been classified as highly infectious and spread more easily than other variants. Like the initial Omicron variant, data suggests that the subvariants of Omicron pose risk to pregnant women but may be less severe in general.
Even with vaccination, breakthrough infections are possible although being up to date on recommended vaccines, which have been deemed safe during pregnancy, can be effective at preventing severe complications, hospitalizations and death.
What to Know About COVID Variants
While there is no clear data that supports the fact that pregnant women have a higher risk of COVID-19 complications, evidence suggests that people whose immune systems have been compromised (such as the elderly and pregnant women) are more vulnerable to COVID-19 complications compared to healthy individuals.
Avoiding Coronavirus During Pregnancy
As mentioned earlier, the immune system of women during pregnancy is significantly lowered. This means that they are generally vulnerable to various infections including COVID-19 and its variants, thus it is important to try as much as possible to avoid contracting coronavirus. Taking precautions and adhering to recommendations from the Center for Disease Control (CDC) including:
Avoiding contact with people who have COVID-19
Maintaining social distance of at least six feet when recommended
Wearing masks in public places
Practicing proper hygiene with regular hand washing
Get recommended vaccines during pregnancy
Call your healthcare professional if you have any concerns about your pregnancy, or if you think that you may have COVID-19.
It is important to also know that should you contract COVID-19 or any of its variants during your pregnancy, be sure to contact your OB-GYN or primary care provider for any additional monitoring throughout the pregnancy period. For women closer to their due date, doctors may even recommend inducing the baby close to delivery date to provide mothers more energy to recover from the virus.


Concerns and Complications

Pregnancy Basics