Eating right is crucial for health, especially during pregnancy. Nutritious and delicious, watermelon offers added benefits for pregnant women.
Benefits of Watermelon During Pregnancy
From alleviating side effects to providing the building blocks for the health of a growing baby, here are a few reasons why watermelon should be on the menu of every expectant mother :
Relieves Muscle Cramps – Muscle cramps are common during pregnancy and are sometimes caused by dehydration or a lack of the minerals potassium and magnesium. Watermelon is a good source of both minerals. Potassium balances fluids and electrolytes and ensures proper nerve signaling and muscle contractions.
Packed With Nutrients – In addition to magnesium and potassium, watermelon is also a good source of numerous vitamins for the healthy growth of your baby. It is rich in vitamin C, beta carotene and B-complex vitamins. These all play an important role in fetal development, from the formation of organs and the immune system to the prevention of birth defects.
Hydrates and Detoxifies – Watermelon, as its name implies, is 90 percent water. It is a cool, refreshing way to stay adequately hydrated. The high water content also has detoxifying effects on the liver and kidneys, pushing out dangerous toxins. It also reduces the swelling of hands, feet and ankles common among pregnant women.
Lowers the Risk of Preeclampsia – Preeclampsia is a pregnancy complication related to dangerous spikes of blood pressure. It can cause premature birth and be life-threatening for both mother and baby. Watermelon contains potassium, the powerful antioxidant lycopene and the amino acid citrulline. All have been shown to control blood pressure.
Relieves Heartburn and Morning Sickness – Whether caused by hormones, certain foods or pressure placed on the stomach, both heartburn and nausea are common in pregnant women. Watermelon has alkalinity that counteracts the effects of acid reflux. It soothes the stomach and esophagus, helping to relieve nausea as well.
Watermelon Recipes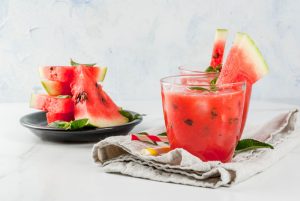 Refreshing and bubbly, this drink packs a double punch against morning sickness and heartburn.
Watermelon, seeded
Ginger ale
Lemon juice
Puree watermelon and a dash of lemon juice in a blender. Strain through a mesh strainer to extract the pulp. Use a portion of the juice to make watermelon ice cubes. Then combine watermelon juice and cubes with ginger ale.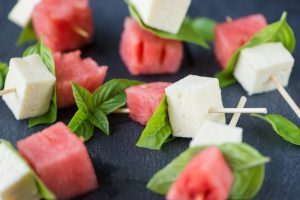 A play on a classic Italian appetizer, this recipe swaps out acid-reflux-inducing tomatoes with soothing watermelon.
Watermelon
Fresh mozzarella
Fresh basil
Extra virgin olive oil
Balsamic vinegar
Dice fresh mozzarella into cubes and combine with minced basil and watermelon cubes in a large bowl. You can also slice watermelon and stack a basil leaf and a slice of mozzarella on top. Drizzle with olive oil and balsamic vinegar before serving.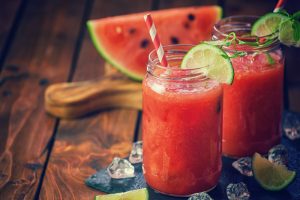 Easy to make and enjoy, this frozen dessert relieves hot flashes.
Watermelon, cubed
Strawberries
Sugar
Lime juice
Blend watermelon, strawberries and a spoonful of both sugar and lemon juice in a blender. Pour mixture into a glass or ceramic dish and freeze. Rake a fork through the mixture every so often to break up ice crystals until you are left with frozen granules. Add Greek yogurt to this same recipe to create a creamy sorbet.

Diet

Prenatal Health